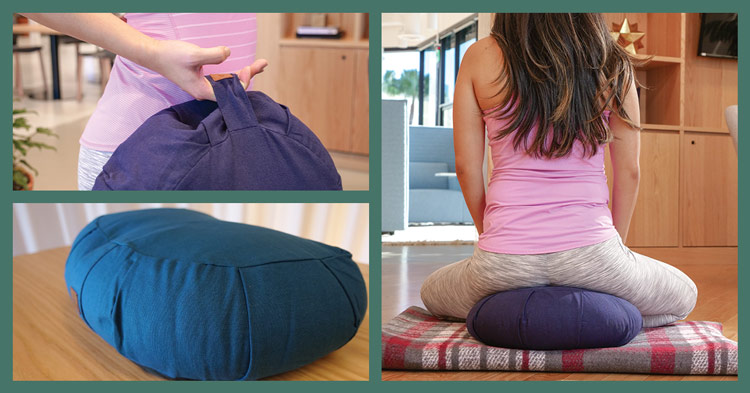 Date Updated: March 27, 2019 
What are Yoga Meditation Cushions?
Meditation cushions (also called yoga meditation pillows or a meditation seat) are props that are specifically designed to provide comfort and support while you meditate.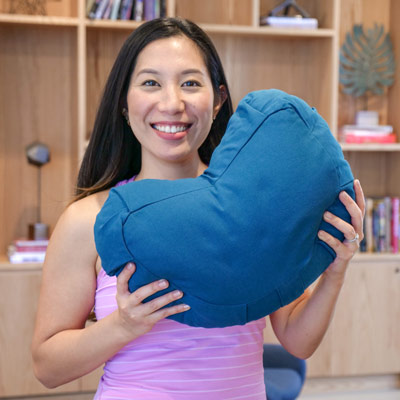 They help keep your knees higher than your hips which takes the pressure off and allows you to sit for a long period of time.
The meditation cushion will make sure you are not distracted by any tension or agitation and are able to focus on your breathing and stillness during meditation.
Cushions come in many shapes, sizes, and filling types.
For any questions, please feel free to send us a message.
Do I Need a Meditation Cushion?
If you regularly sit in a chair or on a couch and rarely sit on the floor, then you will likely need a meditation cushion to be able to sit and meditate.
This is because your legs are used to sitting straight or at a 90-degree angle, whereas in meditation, the knees will bend tighter and also begin to hold more weight.
Even if you are comfortable sitting on the floor, using a yoga meditation pillow will provide a better angle for your legs more comfort while sitting cross-legged for a long time.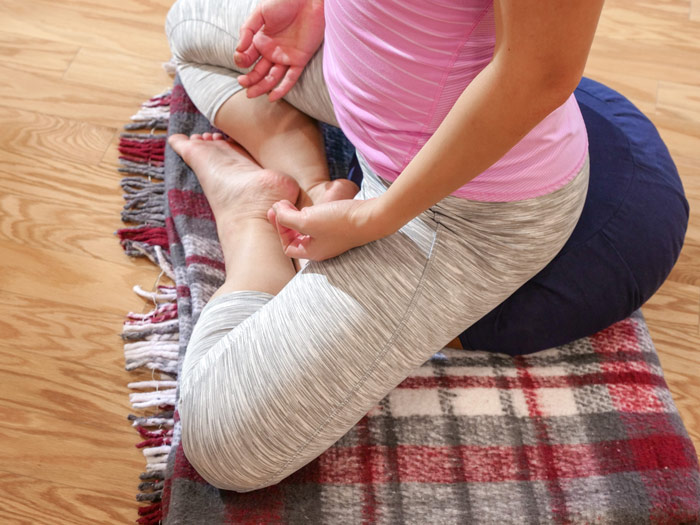 We are both healthy 30-somethings and we use cushions every time we sit to meditate.
What's important is that the cushions elevate your hips above your knees allowing better blood flow in your legs so your feet do not "fall asleep" or cramp up as fast.
Also, the lift this type of cushion brings can help straighten your spine and straighten your posture which allows you to breathe easily.
And when you have a consistent breath, you are not tempted to fall asleep.
These yoga meditation pillows and cushions are one of the best long-term investments you can make in your meditation practice!
4 Types
There are several different types of meditation cushions or pillows on the market but discussed here are the cushions inspired by Zen Buddhism meditation props.
These Zen props are the meditation cushions commonly used for their high quality and durability.
You can use a yoga bolster or yoga blanket, but those are best used to hold yoga poses longer instead of meditating.
Whereas these cushions are designed to support cross-legged or seiza (legs folded underneath) sitting.

Zafu Meditation Pillow
A zafu meditation cushion is a round-shaped or crescent-shaped cushion filled with buckwheat husks easily lifts your hips above your knees.
Incredibly durable and one of the most common cushions you will see in the market.
Zabuton Meditation Mat
A zabuton is a square pillow that is a meditation floor mat filled with cotton.
For maximum comfort, Zabuton meditation mats are place UNDER Zafu meditation cushions to provide a cushion for your knees and legs.
Gomden Platform Cushion
A gomden is a rectangular, tall, platformed Tibetan cushion for meditation that provides extra height ideal for long meditations.
A typical gomden is 6 inches high, about 2 inches higher than regular meditation cushions.
Foldable Meditation Seat
Foldable meditation seats are made with Thai kapok fibers which makes them lightweight yet durable to combat wear of consistent use.
Kapok mediation seats are ideal to use in warm weather because they are softer than buckwheat cushions and do not absorb heat like cotton.
How to Choose the Best Meditation Cushion
Meditating is hard enough and finding the perfect cushion can dramatically improve your concentration and focus.
When you find the right cushion to sit on, your focus and depth of practice greatly increase!
Choosing the right cushions is all about your personal preference and listening to what your body needs.
Here are some reasons and considerations when buying a cushion for meditation:
Reduce Tightness in Hips
If you have tight hips, then make sure you find a crescent cushion that will elevate your hips and allow them to widen comfortably.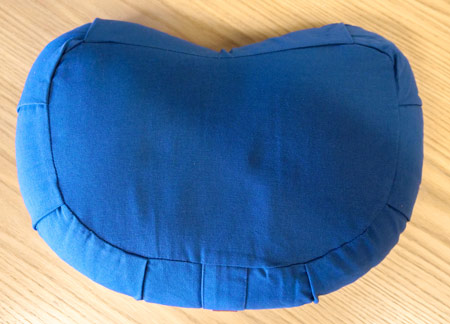 Sometimes crescent yoga meditation cushions or pillows have long enough 'arms' to provide support under your knees which can reduce your fatigue.
Reduce Foot Cramps
Sometimes when you meditate, your feet begin to cramp or go numb because of decreased blood flow in your legs.
We suggest using a round meditation cushion to elevate hips above knees for better blood circulation and to allow gentler pressure on your feet.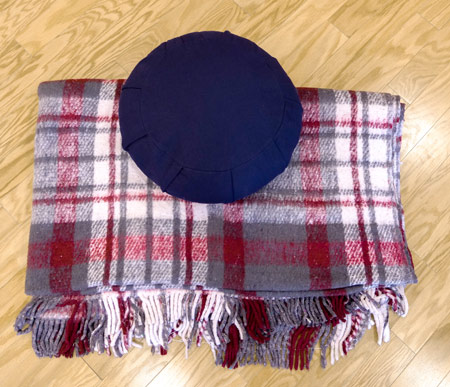 You can also place a blanket under your meditation cushion to reduce any unnecessary pressure on your feet as well.
Slouched Posture
If you feel that your posture is slouching during meditation and your back is curving too far forward, then use either a crescent or round meditation pillow.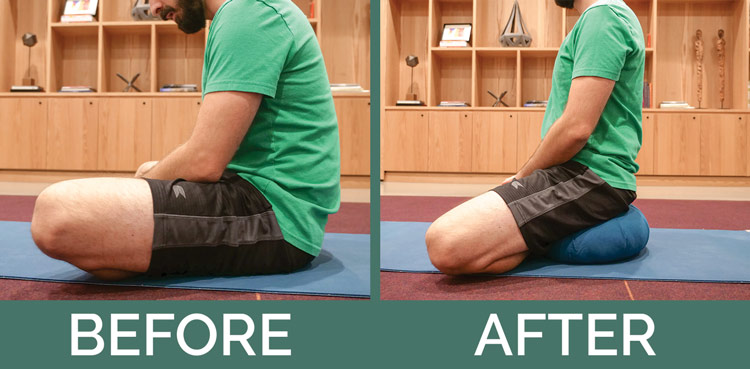 These ones will elevate hips and lower knees to automatically straighten your posture.
Knees Too High
When you sit cross-legged, your knees are naturally higher than your feet which can cause stress and discomfort.
We suggest using both a foldable meditation seat or a gomden with a zabuton for additional comfort and lift.
The meditation seat or a gomden are soft since they are stuffed with cotton, but help elevate your hips and the zabuton pillow will cushion your knees, ankles, and feet.
Ideally, the best way to choose a meditation cushion is to try it out first.
See if you can try one out at your local studio, or from a friend that is into meditation.
Last, but not least, buy one off Amazon, try it out and if you don't like it, then you can send it back with no hassle.
Best Meditation Cushions to Buy in 2019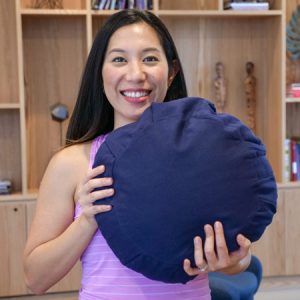 There are many different meditation cushions that you can use and we've reviewed many of them.
In our home, we have 3 types of cushions:
Round Zafu
Crescent Zafu
Foldable Kapok seat
The buckwheat yoga meditation pillows are long-lasting; we've had ours for over 5 years now.
[amazon box="B01B8WAO4A" title="Buckwheat Zafu Round Cushion"]
Best Round Meditation Cushion
Maintains its shape after regular use
Longlasting and durable fabric
Removable cover for easy washing
Carrying handle for portability
[/amazon]
[amazon box="B01N9XDMC5″ title="Buckwheat Zafu Crescent Cushion"]
Best Crescent Meditation Cushion
Maintains its shape after regular use
Carrying handle for easy travel
Removable cotton cover for easy washing
[/amazon]
[amazon box="B006M9741Q" title="Yoga Direct 100% Cotton Zabuton Cushion"]
Best Zabuton Meditation Mat
Dimensions: 36" x 28" x 3"
Filled with 100% pure, all-natural cotton
Removable and washable cover
Sturdy, heavy cotton twill cover
[/amazon]
[amazon box="B01LATPHTS" title="Kapok Foldable Meditation and Floor Cushion"]
Best Foldable Meditation Seat
Dimensions unfolded: 25.5" x 19.5"
Filled with 100% Thai kapok (silk-cotton, hypoallergenic plant fiber)
Durable, double-stitched seams to hold up shape
Stable and sturdy to hold body weight for meditation
[/amazon]
[amazon box="B00JJ4XJ0G" title="Tibetan Seat Cushion"]
Best Gomden Tibetan Meditation Cushion
Dimensions: 18.9" x 13.4" x 6.5"
100% Cotton cover and filling
Carrying handle for easy transport
Firm cushion for comfort and to hold shape
Height and heft provide comfort for long periods of meditation
[/amazon]
Crescent vs Round Meditation Cushion
Both crescent and round meditation cushions are useful, but the two styles have different benefits.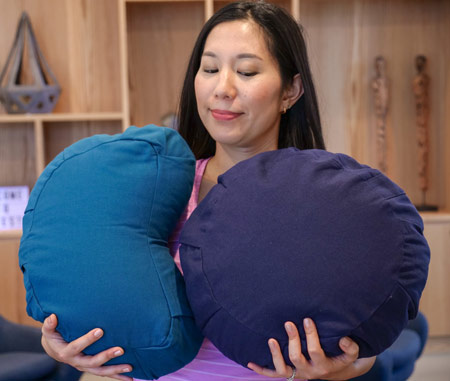 A round meditation cushion helps to make room for your personal parts when you sit down on it but doesn't give much support for the knees.
Whereas a crescent-shaped meditation cushion really molds against your tush and thighs, while also providing some support for the legs and knees.
We suggest using a crescent-shaped cushion if you have tight hips but consider getting a round cushion if you are on the bulkier side or need room to relax.
How to Sit On a Meditation Cushion
Having the right posture and position is how you have an impactful meditation practice.
When you sit on the cushion, do a quick body scan to make sure that:
Your spine is straight
Chin is parallel to the ground
Shoulders and jaw are relaxed, and
Hips above knees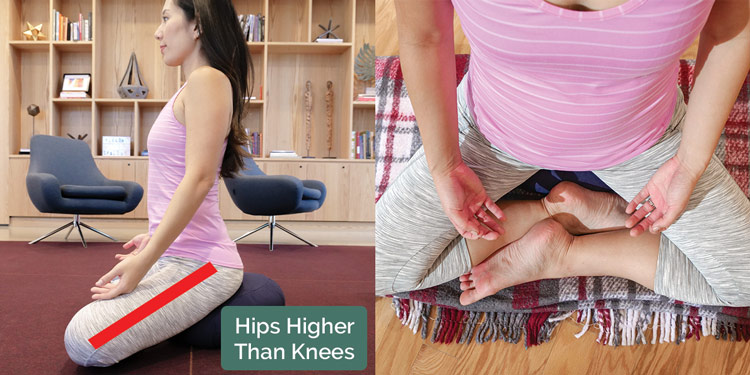 You can have your palms up or down on the thighs, or even interlaced and folded together.
Simply do what feels right and is most comfortable because meditation sessions can last for 20+ minutes depending on how deep and long you want to go.
If you're new to meditation, we suggest trying a few different positions.  See how they feel and do what's right for your anatomy and physiology.
Best Filling for a Meditation Cushion
They are all filled with different materials and it all comes down to what firmness you prefer.
Yoga meditation pillows are typically filled with 100% natural buckwheat hulls rather than poly foam or memory foam found in a squishy pillow.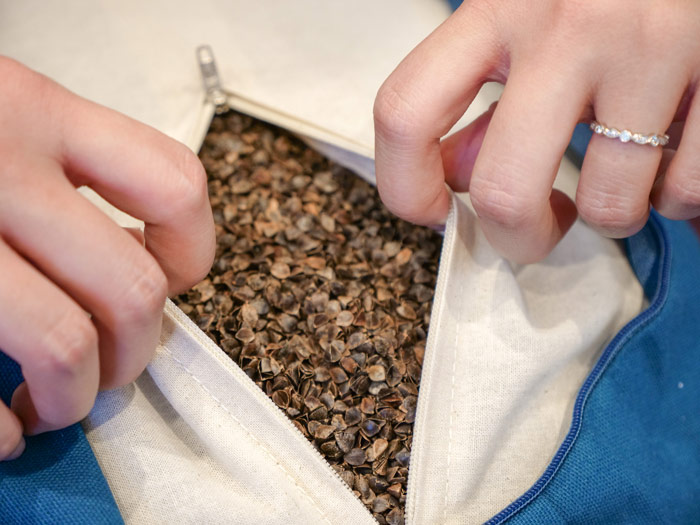 Buckwheat has a long tradition of durability and pressure resistance making it perfect for bearing body weight in meditation practice.
Another benefit of buckwheat is that the hulls create air gaps allowing the bolster to mold against your body contours. These air gaps also create a 'cooling effect' so the pillow does not trap heat.
Furthermore, the hulls are hypoallergenic making yoga bolsters excellent for yogis suffering from allergies or asthma.
Now if you are looking for a softer meditation cushion, Thai kapok filling, a cotton-silk fiber, is a great alternative. It is also hypoallergenic and does not trap heat making it a solid alternative to buckwheat hulls.
Kapok is typically found in foldable or rolled meditation seats. Below is our recommendation for kapok meditation seats.
Our customer support team is easily accessible, so contact us and we will call or mail you back to help you with your queries.
Compare Meditation Cushions
[amazon table="2345″]