Our Mission
Our team of experienced yoga teachers and practitioners help new and experienced students learn how to incorporate yoga into their everyday life so they can enjoy the benefits of a more mindful and enjoyable day.
From choosing the best yoga mat or getting started with yoga as a beginner, Credo Yoga will guide you through your journey with thoughtful advice from real life experiences.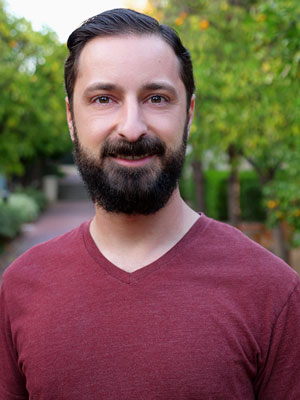 Jim Breese
500 Hour Certified Yoga Teacher
For the past four years, Jim has been on the yoga journey. When you come to his classes you will notice an intense focus on deep breathing which helps students unearth their full mental, emotional and physical potential.
Jim is certified under the Pasadena Yoga of Mystics 500-hour teacher training program and incorporates other healing modalities including meditation and positive framing into his classes.
Originally from Michigan, Jim moved out to California in 2009 to explore a new world of opportunities immediately after graduating from Michigan State University.
After five years of success in corporate, he left his day job to fulfill his entrepreneurship goals. With his free time outside of yoga and work he enjoys roasting coffee, working in his porch garden, and spending time in nature.
Amanda Breese
500 Hour Certified Yoga Teacher
Amanda was introduced to yoga back in 2009 and experienced such profound healing from the poses and breath work that she immediately wanted to learn everything about yoga and why it worked.
Yoga improved her life so much that in 2013 Amanda signed up for 200-hr teacher training and in 2014 completed her 500-hr teacher certification with Yoga of Mystics in Pasadena, CA.
Since then Amanda has taught at yoga studios, corporate offices and at various events and conferences. Her spiritual practice has also grown over the years that she now incorporates oracle card readings and shamanic healings into her work.
In her spare time, she dances hula with Halau Hula Moani 'A'ala Anuhea in Monterey Park, CA. After years living away from her native home, Hawaii, she ached to reconnect with her Hawaiian roots, and amazingly, found this hula halau just a few miles away from her home!
Amanda has a deep passion in helping others in their healing and spiritual journey whether through yoga, meditation, oracle readings or shamanic practice. There is nothing more rewarding than seeing a client transform and empowered to live life joyfully and on their terms.
PS.  We are a husband and wife team!!