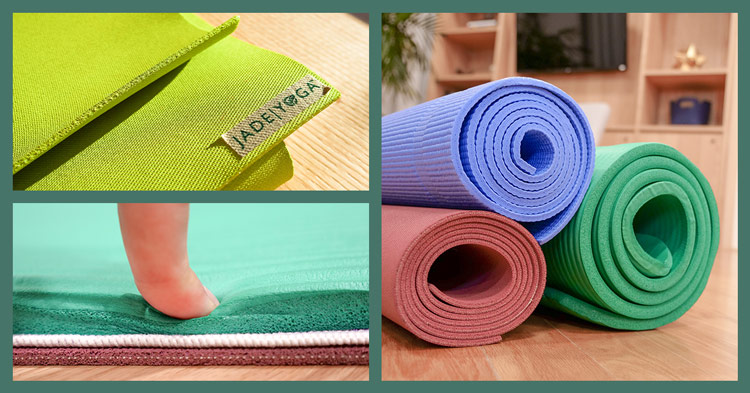 Date Updated: March 27, 2019 
Find The Best Yoga Mat With Credoyoga
Having the good quality yoga mats  is essential for having an enjoyable and safe yoga practice.
But have you considered whether your yoga mat is appropriate for the style of yoga that you practice?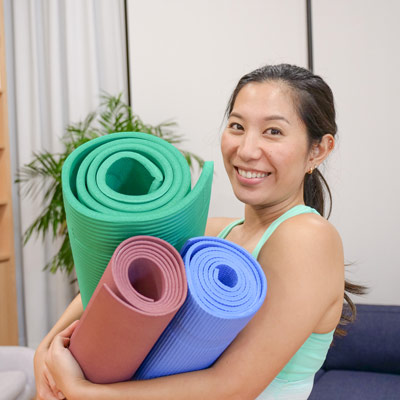 An ideal yoga mat  should have the texture, thickness/density, cushion level and sweat-resistant ability appropriate for your specific practice.
There are many varieties of mats on the market, so we understand that choosing a mat can be overwhelming for beginner yogis or for those recovering from an injury or surgery.
To help you choose the perfect yoga mat we shopped and tested a wide range of yoga mats to determine which mat is best for which yoga style.
We hope this thorough guide will help you narrow down your options and give you some helpful tips.
If you have any questions related to yoga bag, please feel free to send us a message.
The Best Yoga Mat to Buy in 2020
If you want our recommendation right away for the best yoga mat, then we suggest the Jade Harmony Mat.
Hands down, this is our all-time favorite yoga mat because it's all natural, sturdy and grippy.  They also last a long time which makes them a good value!

The natural rubber texture provides traction and stickiness so your mat doesn't slip around during practice.
Its durability and thickness make this mat a favorite for all types of yoga and is the best yoga mat for beginners.
We have used these mats for the past 4 years and love them!
[amazon box="B00THGG3ZY" title="Jade Harmony Mat in Various Colors"]
Best Yoga Mat
Material: All-natural Rubber
Thickness: 5mm or 3/16"
Provides traction for balance without slipping (even when you're sweating)
Has cushion for comfort in your sitting, kneeling, and table poses
Density & stability for your standing poses
Excellent grip to hold your poses longer
[/amazon]
If you're in need of a lighter option for traveling, then check on the Jade Voyager Yoga Mat.
It folds up to the size of a yoga block to fit easily into your luggage or backpack.
This is not an everyday kind of mat because its portability impacts overall durability.
[amazon box="B01A9F5X70″ title="Jade Voyager Mat"]
Travel Yoga Mat
Lightweight
Compact design
Natural rubber gives superior resilience and some cushion
[/amazon]
5 Mistakes We Make When Choosing a Yoga Mat
There are so many different yoga mat options on the market that we either choose the first mat we see in our favorite color, or we choose the mat with the best customer reviews.
While that is not a bad way to go about choosing a mat, you realize after several uncomfortable sessions that you need to put more thought into what mat is right for you and the yoga style you practice.
From our experience, these are the 5 mistakes we've made in the past when choosing a yoga mat.
Texture

– feel and grip of the mat material may not be appropriate for your yoga style

Thickness & Density

– thicker and denser may not always be better

Cushion Level

– squishy and cozy mats are good for certain yoga styles

Sweat Resistance

– wicking sweat is good for clothes, but not so much for yoga mats

Smell

– some yoga mat smells never go away no matter how long you practice on them
We understand that these issues are based on preference depending on the style of yoga you enjoy practicing.
Cushion level may be a priority for prenatal yogis or sweat-resistant ability would be important for a hot yogi.   
Already know the yoga mat you want?  Here's how to test it first.
Texture
You may like a mat because it feels cushiony or smooth but choosing the appropriate yoga mat texture will complement your yoga practice.  

The texture of the mat will determine grip, comfort, and traction or anti-slip ability for your hands and feet.
For example, in a yin yoga practice you may want a mat with a bumpy surface to assist in holding poses, and for power yoga practice a smoother surface is better to wipe away sweat.  
Thickness & Density
Though you may prefer a certain texture of a mat, you may be put off by the thickness (or thinness) of the yoga mat when you actually practice on it.  
Standard yoga mat thickness is 4 – 5mm (approx. 3/16″) but mat thicknesses and density are so nuanced depending on the material it's made out of.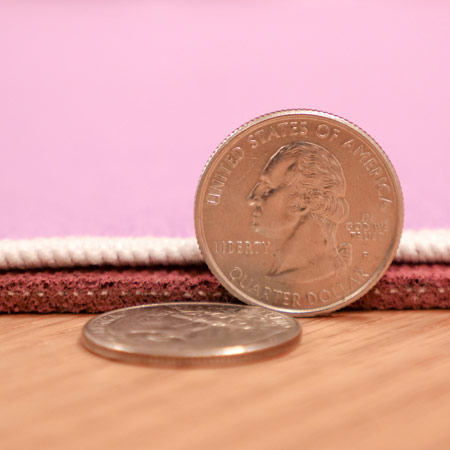 By industry standard 1/4″ is considered as a best thick yoga mat, but there are thicker ones on the market.
For example, you may be concerned about the thinness of a yoga mat made of all-natural rubber, but stepping on it you feel how dense it is and it also explains why it weighs over 3 lbs.
Yoga Pro Tip: Keep in mind that thicker and denser may not always be better.  The thicker the mat, the less stability you have and the less support you have from the hard floor.
In some yoga classes, you reap the benefits when you feel the pressure of your body weight against the hard ground.
The pressure softens stiff muscles, massages your hands and feet, and combined with a deep exhale, all those tensions melt away.
Cushion Level
Like we mentioned above, though some mats are thin, it may be the perfect comfort level for you because of the cushion level the yoga mat.
Also, consider where you practice yoga frequently.
If you practice at home on the carpet, then you would need a sturdier mat.  You may even want to invest in a yoga board if you practice balancing poses or inversions.
Or if you practice on a balcony or on concrete, a thicker, springy, vinyl blend yoga mat may be suitable not just for comfort, but also for easy cleaning.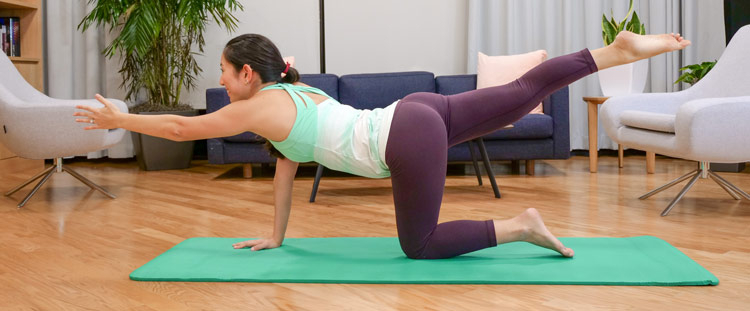 And for those with painfully sensitive joints, choosing a thick, squishy, lightweight mat may be the better option, paired with a thick blanket.  You can check out our yoga blanket reviews if you are also in search for one.
Sweat Resistance
We refer to sweat resistance as how well a yoga mat resists (rather than absorbing) sweat.
There are many lower-priced, squishy yoga mats that absorb sweat off of you like a sponge.  These are the mats you see at Walmart, TJ Max and the like.
So you can imagine how icky these mats can get after several weeks of sweaty yoga practice.
More so, those spongy mats are hard to clean.  They soak up the soap and do not rinse out thoroughly leading to (speaking from experience) a slippery soapy mess at your next practice.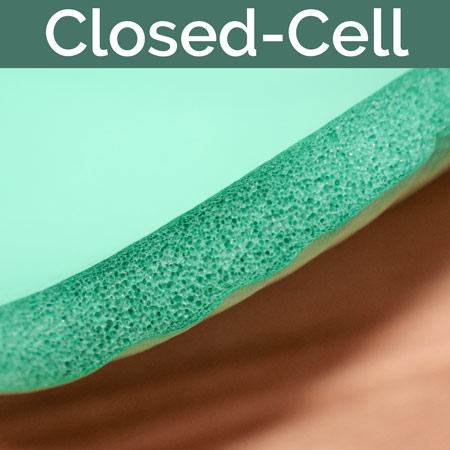 Closed-Cell vs. Open-Cell
Some brands promote their mats as "closed cell" or "open cell" material. These are common manufacturing terms to categorize foam and rubber materials by use.
Closed-cell materials (PVC/NBR blends, PUR, and TPE) prevent moisture and oil absorption making your mats sturdy and sweat resistant.  Mats lined with a closed-cell material are easier to clean with a spray and wipe, while also being tear-resistant.
Open-cell material, such as natural rubber, allows mat flexibility, cushion shock and compression so your mat is comfy instead of a stiff slab.  Some PVC mats are open-celled and spongy enough to wick sweat and absorb moisture.
Most yoga mats on the market are a blend of the two cell material types.  So choose a material based on your yoga style to decide whether a sturdy, sweat-resistant mat suits you or you'd rather choose a squishy, flexible mat.
If you sweat so much that your downward dog feels like you're going to slip, then we suggest that you purchase a yoga towel to cover your mat and another towel to wipe yourself down.
Smell
Speaking of sweaty mats, you must allow your mat to air dry, even if it has a great sweat-wicking ability, to prevent it from smelling.
If your yoga mat starts to smell and cleaning does not deodorize the smell, then it's time to shop for a new mat.
But in this article, we are suggesting that you consider the smell of the materials when purchasing a new mat.
Each mat material has a distinct manufactured smell and may become a nuisance after several child's poses.
From our experience, the all-natural rubber mats have the strongest smell initially, but it does go away after some practice and maybe a bit of time in the sun which we will talk about at the end of this section.
Breaking In Your Mat
Some manufacturers apply a preservation agent to the surface of the mat, which makes the mat smell and also feels slippery.  This agent will wear off over time as you use the mat, or you can even wipe it off with a gentle cleansing wipe.
You may have heard a yoga instructor suggest that you "break in" the new yoga mat before you practice on it to get rid of the smell and to also build in traction.  
We've tried using distilled vinegar, rubbing coarse sea salt, baking soda, tea tree oil spray, and we feel none of them are sufficient and they make quite a mess.
Our favorite way to break in a mat is to simply air it outside in sunlight.  The sun is a natural deodorizer and bleaching agent, but be careful leaving your mat in direct sunlight.  Depending on the mat material and where you live, an hour of direct sunlight is enough to break in your mat.
Which Materials are Best For Yoga Mats?
Mass-market yoga mats are generally made of these common artificial and natural materials.  Each material is widely used across industries and has its eco-friendly and economic benefits.
Natural Yoga Mat Materials
Rubber or natural tree rubber
Jute
Cork
Cotton
Hemp
Artificial Yoga Mat Materials
PVC – polyvinyl chloride – or simply, vinyl
PER – polymer environmental resin – eco-friendly PVC alternative
PU or PUR – polyurethane – widely used as memory foam
TPE / TPR – thermoplastic elastomer /rubber – or simply, elastic rubber
NBR – nitrile butadiene rubber – or simply, synthetic latex
Each material has its unique properties to provide durability, elasticity, comfort (by touch and smell), moisture absorption, and longevity.
The artificial materials are non-toxic, are widely used in medical equipment or food preparation, and can be recycled and reused.  They also come in a variety of color options.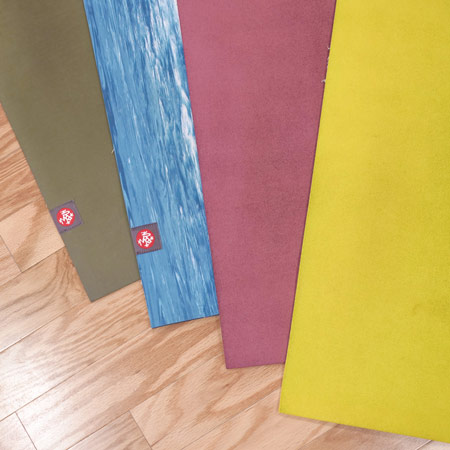 After conducting our research, we realized that each material has its unique benefits and purpose, so the difference is really a matter of preference.
So how do you decide on what your preferences are?
Preference depends on the yoga style you enjoy practicing, as well as, the setting or location of where you frequently practice.
With yoga being offered everywhere and practiced outside a studio environment, setting and location have become important factors that we may overlook.
Which is the Best Yoga Mat for You?
We have covered a lot of information about materials, textures, cushion levels and more!
Below is a selection of yoga mats that we have tried and tested ourselves with our comments.
[amazon table="2418″][/amazon]
[amazon box="B00THGG3ZY" title="All-Natural Rubber Jade Harmony Mat"]
Best Yoga Mat
Great for men and women
Comes in various colors
Provides traction for balance without slipping (even when you're sweating)
Has cushion for comfort in your sitting, kneeling, and table poses
Excellent grip to hold your poses longer
[/amazon]
[amazon box="B006ZBGY80″ title="Aurorae Synergy Mat with Integrated Non-Slip Micro Fiber Towel"]
Yoga Mat For Hot Yoga
This hot yoga mat has a towel stitched on to it, preventing slips and bunching.
It's well cushioned and absorbs lots of sweat keeping you dry and comfortable.
Material: Topped with microfiber cloth and bottom lined with PER / Polymer Environmental Resin
Thickness: 6mm or 1/4″
[/amazon]
[amazon box="B075CGMD4H" title="Organic Eco-Friendly Cork & Natural Rubber Mat"]
Eco-Friendly Yoga Mat
Non-Toxic Materials
Offers you a smooth yet non-slip surface
Super absorbent, no need for a mat towel
Antimicrobial cork mat inhibits the growth of germs, mildew, mold, and bacteria
[/amazon]
[amazon box="B00JW3CTTQ" title="1/2 Inch Extra Thick Mat with Strap"]
Best Thick Yoga Mat
Has a ton of cushion which is a great support for sensitive joints.
The ribbed texture provides non-slip traction, and the NBR material is lightweight and durable for easy travel.
Comes with a convenient strap
[/amazon]
What is the Standard Size of Yoga Mats?
Many brands offer different sized yoga mats, the industry standard size of a yoga mat is 24" extra wide by 68" long.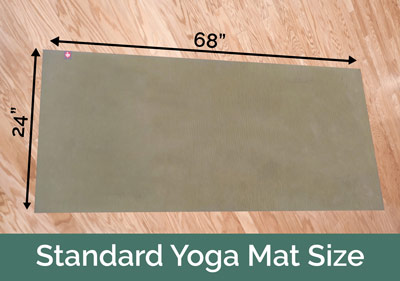 Some brands have increased their standard size to 26" wide and 71" long, and even offer mats up to 80" in length.
Ideally, you want a mat that gives you extra room on all sides so you're not constantly adjusting your position while you practice.
You don't want your feet and/or your shoulders to dangle off the mat.  That can easily ruin a peaceful savasana at the end of a hard yoga class.
The standard yoga mat size is comfortable if you're under 5'5.  If you're taller than that, you may want to go with the 72″ extra large yoga mats.
We created a conversion table so it's easier to visualize the yoga mat lengths.
Yoga Mat Size and Dimensions Table

How Thick Are Yoga Mats?
Mat thickness matters a lot when it comes to practicing yoga safely and comfortably.
With all the different kinds of all-natural and synthetic materials used to make yoga mats, there is no standard thickness size for yoga mats.  But we can at least give you a guideline.

Best yoga mats are generally 4mm – 5mm thick, but mat thickness is dependant on the brand and material it's made from.
1/2 inch is considered a thick yoga mat, but there are much thicker ones out on the market now.
Also, thickness does not necessarily mean that it's denser.  It depends on the manufacturer and also the mat material.
Some synthetic mats with a 1/4 inch thickness may be just as dense as an all-natural rubber mat but half the thickness.
Yoga Mat Thickness Conversion Table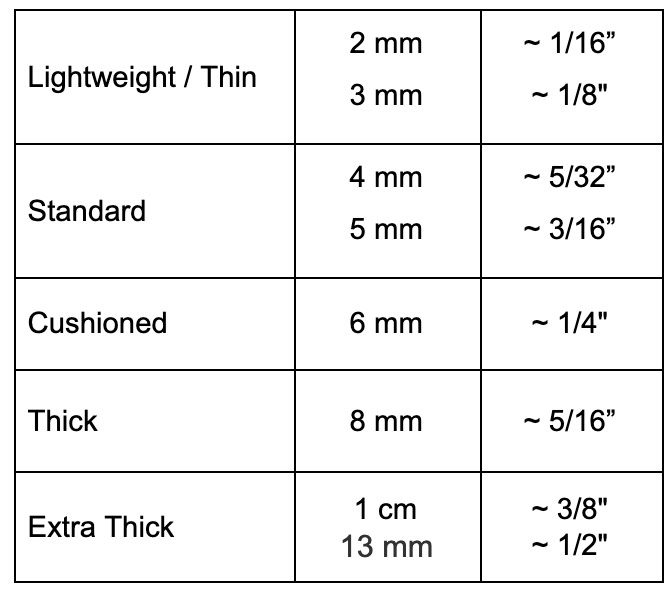 How To Test a Yoga Mat Before You Invest In One
Ideally, we suggest that you test the yoga mat out first before purchasing it, but we know that's not always possible so no worries.
Practicing a sequence from your favorite yoga class on the mat prior to purchasing it is the best way to determine whether the mat is perfect for you.
If this sounds like a lot of work, well, it is.
From our experience, and if you ask veteran yogis, doing this research and testing is worth the time and energy, especially if yoga is a practice you want to stick to.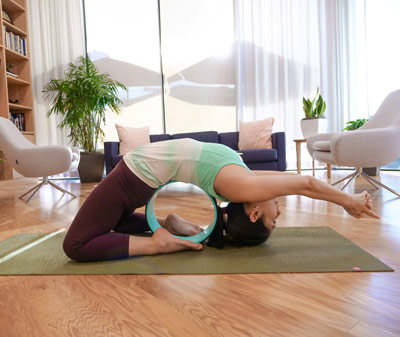 Specialized exercises such as running or cycling, especially if you are training for a race, require appropriate gear to prevent injury, discomfort, and importantly, discouragement.  The same caution should be applied to yoga.
We understand that testing out a mat is difficult, particularly at mass retailers where, chances are, their yoga mats are on sale.  So here are our suggestions or workarounds in testing out a yoga mat.
Rent the best yoga mat at your yoga studio
Our yoga studio rents out the lower-priced artificial mats and the all-natural rubber mats for students to test out before they purchase one.  This is a tiny investment to check out a variety of mats first hand.
Ask fellow yogis if you could try their mat
Scope out the mats your fellow yogis use and ask if you could test out a sequence on it.  We understand how icky this may sound, so come prepared with a yoga mat cleaning spray and offer to clean it after you test it out.
Unfortunately, not many yoga mat brands offer swatches of their mats.
How to Clean and Care For Your Yoga Mat
There are many ways to clean your yoga mat with all-natural products, essential oils and even DIY cleaners that you can make at home.
We walk you step-by-step on how to properly care for your yoga mat and tell you how it will improve your yoga practice.
Compare Yoga Mats
[amazon table="2418″]