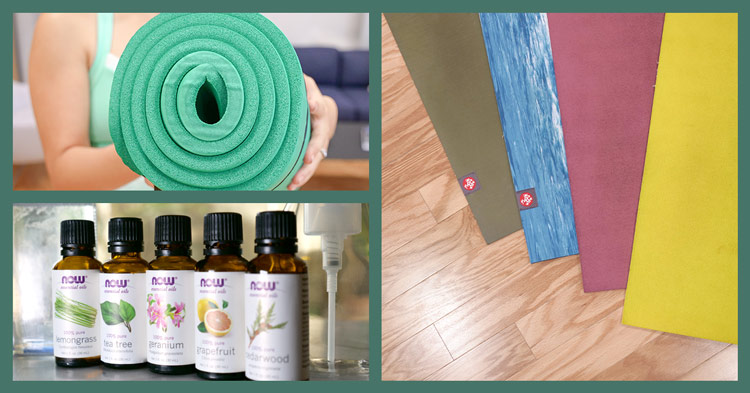 How to Clean Your Yoga Mat
Choosing how to clean your yoga mat will depend on a few factors including what material your mat is made of.
But all of the general care suggestions we give below go for all mat types.
We will cover the do's and don't, as well as give you some methods and DIY yoga mat cleaning spray ideas.
If you have any questions, please send us a message and we'll get back to you
Do's and Don'ts for How To Clean a Yoga Mat
Here are our suggestions of what to do and do not do when cleaning and caring for your yoga mat.
Don't clean your yoga mat in the washing machine.
This can wear the lining of your yoga mat and accelerate the deterioration of the mat material.
If it gets caught on the auger in the machine, you could rip your rubber or cork yoga mat.
Don't use harsh disinfectant sprays or wipes to clean mat.
Using such chemicals are good for sanitizing hard, non-porous surfaces like countertops or doorknobs, but not on a soft surface like your yoga mat.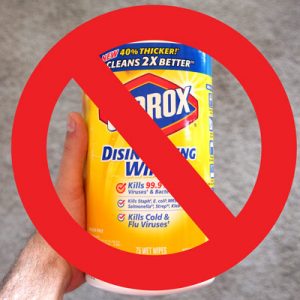 You wouldn't spray those chemicals on your clothes because it would irritate your skin.
So don't use them on your yoga mat.  You don't want to be halfway into a yoga class and start itching from the Clorox wipes!
Don't use a scrub brush or an abrasive sponge to clean mat.
Scrubbing down your mat is very tempting if your mat is feeling sticky, especially during the humid summer months.
Cleaning brushes are made for grimy hard surfaces, way too harsh for a soft yoga mat.
Instead, use aluminum-free baking soda and white vinegar to deep clean or spot-treat stains on your mat.  The grit from the baking soda will rub all of that grime away!
If you really need to deep clean your yoga mat, then grab a soft washcloth to break down and tough stains.
Don't submerge yoga mat in water.
We know, it's very tempting to dunk your dirty yoga mat in a bathtub of hot soapy water.
Try lightly spraying down your mat with a spray bottle (or even the hose) to clean it.
Submerging your mat in water will take days to dry thoroughly, especially if your mat is already damp from a sweat yoga practice.
A little spray down after every class can really go a long way in keeping your yoga mat clean.
Do give your mat some sunshine.
Our favorite way to break in and clean our yoga mat is leaving it outside during daylight.
The Sun is a natural deodorizer and sanitizer, so we suggest that you leave your mat out to dry after every practice.  Only about 1 hour is necessary.
But be careful leaving your mat in direct sunlight. Depending on the mat material and where you live, direct sunlight may warp or discolor your mat.  Check the packaging of your mat when you purchase it or look up the information on the manufacturer's website.
Do roll your yoga mat up for storage.
This may sound obvious, especially since most mat manufacturers package their mats rolled up.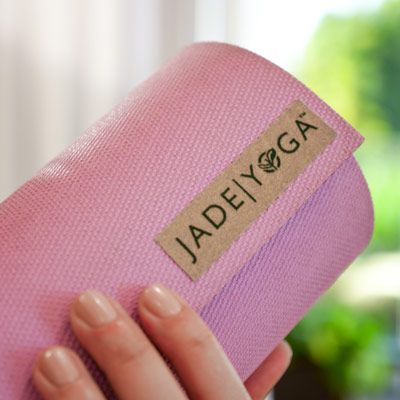 Though we've seen many yogis fold their mats into thirds or fourths because it's much easier to fold than roll (we agree, it is).
Some mat materials are durable enough to be stored folded up.  But if your mat is a rubber cork hybrid or made of some other spongy material such as cork, then folding the mat will breakdown the material faster than rolling it.
Test the durability of your mat by folding it.  If the fibers expand and contract when you fold or stretch it, then roll your mat.  If the fibers stay put, then the mat can handle being folded repeatedly.
Do spray down yoga mat with a vinegar or witch hazel solution.
Equal parts vinegar or witch hazel to distilled water will clean your mat just fine, check out our DIY recipe here.
Vinegar is cheaper than witch hazel and will do the job well, But we prefer witch hazel simply because it smells better and is gentler on your skin.
We recommend that you spray down both sides of your mat (and wipe off the excess) after every practice, even if you did not sweat.
It's a cleanliness habit that gives you peace of mind.
Do deep clean your mat biweekly using foamy soap and a microfiber towel.
To be honest, we follow the above yoga mat cleanliness habits so we can get away with deep cleaning our yoga mat once a month.
If you feel you cannot get away with cleaning your yoga mat for that long but want an easier way to clean your mat, use a foamy soap.
Foamy soap is usually diluted so it's easier to rinse away excess soap and not as much soap gets absorbed into your mat.
Using a microfiber cloth will remove more moisture than a regular terry cloth towel.
You can easily make your own foamy soap using your favorite soap brand, but you do need a foamy soap dispenser.
Looking for a New Yoga Mat?
Below is a selection of yoga mats that we have tried and tested ourselves with our comments.
[amazon table="2418″][/amazon]
[amazon box="B00THGG3ZY" title="All-Natural Rubber Jade Harmony Mat"]
Best Yoga Mat
Great for men and women
Comes in various colors
Provides traction for balance without slipping (even when you're sweating)
Has cushion for comfort in your sitting, kneeling, and table poses
Excellent grip to hold your poses longer
[/amazon]
[amazon box="B006ZBGY80″ title="Aurorae Synergy Mat with Integrated Non-Slip Micro Fiber Towel"]
Yoga Mat For Hot Yoga
This hot yoga mat has a towel stitched on to it, preventing slips and bunching.
It's well cushioned and absorbs lots of sweat keeping you dry and comfortable.
Material: Topped with microfiber cloth and bottom lined with PER / Polymer Environmental Resin
Thickness: 6mm or 1/4″
[/amazon]
[amazon box="B075CGMD4H" title="Organic Eco-Friendly Cork & Natural Rubber Mat"]
Eco-Friendly Yoga Mat
Non-Toxic Materials
Offers you a smooth yet non-slip surface
Super absorbent, no need for a mat towel
Antimicrobial cork mat inhibits the growth of germs, mildew, mold, and bacteria
[/amazon]
[amazon box="B00JW3CTTQ" title="1/2 Inch Extra Thick Mat with Strap"]
Best Thick Yoga Mat
Has a ton of cushion which is a great support for sensitive joints.
The ribbed texture provides non-slip traction, and the NBR material is lightweight and durable for easy travel.
Comes with a convenient strap
[/amazon]
DIY Yoga Mat Spray
We love economic DIYs and homemade goodies that help stretch our hard-earned dollars.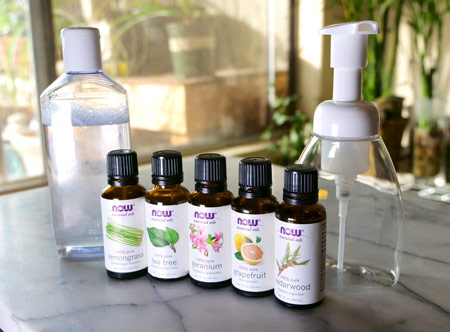 Our DIY yoga mat spray uses both white vinegar and witch hazel to cut down the vinegar smell.
Witch hazel is not as cost effective as vinegar, so you can omit it completely and double the vinegar amount if necessary.  We use white vinegar, not distilled. You can read more about that here.
The essential oil amounts are suggestions based off of the brand we like to use.  Concentration amounts vary, so check with your brand's suggested use before making this spray.
This DIY yoga mat spray recipe makes 24 oz, so it should last you for a couple of months if used regularly.
Our recipe calls for 12 to 18 drops of essential oils. Keep in mind that the witch hazel and vinegar alone will clean your mat, so you can use fewer essential oil amounts.
All-Natural Yoga Mat Spray Recipe
32 oz. Spray Bottle
Witch Hazel (alcohol-free) ½ cup / 8 oz
White Vinegar   ½ cup / 4 oz
Distilled Water (or purified) 2 cups / 16 oz
Tea Tree Oil   4 – 6 drops
Essential Oil A   4 – 6 drops
Essential Oil B   4 – 6 drops
How To Clean a Yoga Mat Using Spray
Pour the witch hazel and white vinegar to your spray bottle.
Add the tea tree oil and swirl to combine.
Then add only half (2-3 drops) of essential oils A and B, swirl to combine.
Carefully smell the solution, maybe even test spray it onto a napkin.
Check if you like the smell and then proceed with the remaining half (2-3 drops) of essential oils A & B.  You may need to adjust the amounts if one essential oil overpowers the other.
Pour distilled water till the solution reaches to the 24 oz line on the spray bottle.
Shake well before every use.
How To Clean A Yoga Mat Using Essential Oil Blends 
Here are our favorite essential oil pairs that pack antifungal, antimicrobial and antibacterial power.
How To Clean Your Yoga Mat – Cleaning Essentials
[amazon table="2540″]
If you have any questions, please feel free to send us a message.
Be Careful Using These Cleaning Products on Your Yoga Mat
For how often we practice yoga, we consider our yoga mat intimate and sacred, so we understand yogis concerns with how to care for it.
From our experience, we suggest that you take precaution when using these products when cleaning your mat.
High-Concentrated Dish Soap
As much as we all love using dish soap to clean everything other than dishes, we suggest using dish soap sparingly when cleaning your mat.
Some dish soap brands are so highly concentrated that a squirt of soap is enough to clean a sink full of caked up dishes.
We suggest that you dilute your soap or make your own foamy soap before using to clean your mat.
Rubbing Alcohol and Chlorine Bleach Products
When flu season comes around and colleagues start calling in sick, just like you, we start spraying everything we touch with rubbing alcohol or bleach.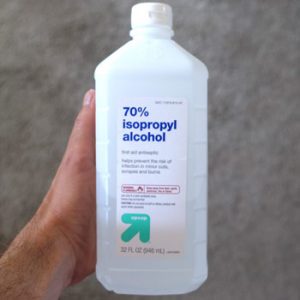 But spraying down your yoga mat with rubbing alcohol and/or a diluted bleach solution can break down or dry out natural rubber and other natural materials over time.
If you follow our recommended yoga mat hygiene routine from above, then you should be all set against most germs and bacteria.
When in doubt, just check your yoga mat brand's cleaning suggestions to see what chemicals are safe or harmful to your mat.
High-concentrated Essential Oils
Though we love making our own essential oil blends, using too many oils to clean your mat can irritate or even burn your skin.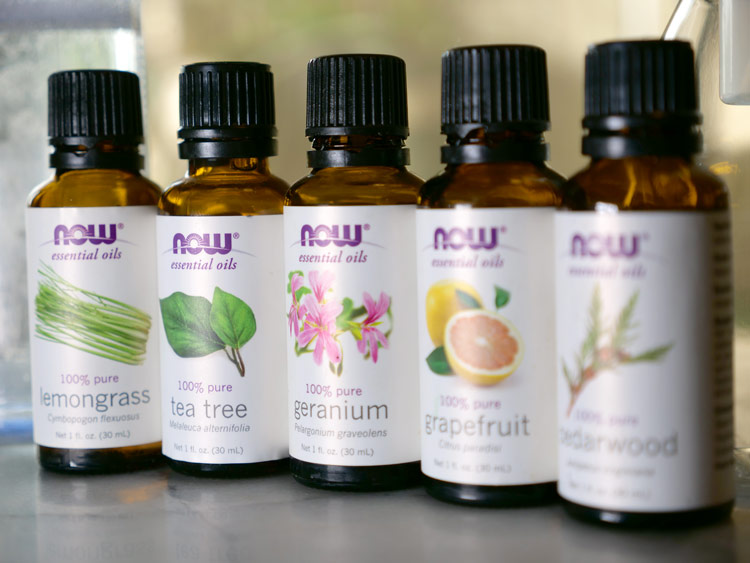 Essential oils vary just as much as different brands offering yoga mats in the marketplace, so read your essential oil brand's labels for suggested use before you apply it on a yoga mat.
Some brands make their essential oils strong for diffusers, whereas some are diluted for topical use.
If you are making your own DIY Yoga Mat Spray, then we suggest that you use max two essential oils, so you don't risk irritating your skin.
Add only half of the essential oils that a recipe calls for, test it out, then add the rest if needed.
How To Clean Your Yoga Mat -DIY Foam Soap
Here's another economic DIY on how to clean a yoga mat that will help stretch your cleaning budget.
Final Foam Soap for Cleaning a Yoga Mat
We love using foam soaps, but we noticed that we went through them pretty quickly, especially when cleaning our yoga mats.
So instead of buying foam soaps, we decided to make our own using our favorite brands of concentrated liquid soap.
All Natural Foam Soap Recipe
Instructions
Fill a ⅓ (or less depending on soap brand) of the foam soap bottle with your favorite liquid soap.
Add 2-4 drops of your favorite essential oil.
Fill another ⅓ of the foam soap bottle with distilled water.
Screw on the bottle dispenser and shake well to combine all ingredients.
Enjoy!
How To Clean Your Yoga Mat Using The Best All-Natural Liquid Soaps
The brands we chose in our Best List sell soap refills or options to buy in bulk.
[amazon table="2546″]
If you have any questions, please feel free to send us a message.
How to Remove Yoga Mat Stains
Using a bright, cheery colored yoga mat makes practice so much fun after a dreary day at work.
But no matter how often you clean your mat, stains are inevitable if you practice regularly.
Removing stains from spongy yoga mats are challenging and requires wait time so plan accordingly.
Our stain-removal instructions are for wear stains, like accumulated sweat and dirt from regularly using your yoga mat.
If you need to remove a tougher stains, you may want to contact the yoga mat manufacturer. Or do your own research on how to clean your yoga mat by searching for stain removals of your yoga mat material.
And before you attempt to remove the stain, make sure you to test out the cleaning solution on a small patch of your mat.
Supplies you need to remove yoga mat stains:
Baking Soda (aluminum-free)
White Vinegar
Paper Towels
Microfiber Towel
Water to rinse off your yoga mat
Instructions to remove yoga mat stains
Sprinkle a generous amount of baking soda onto the stains on your yoga mat.
Either spray or gently pour white vinegar onto the baking soda heaps till it makes a fizzy paste.
Let the solution sit for 5 minutes.
After the 5 minutes pass, pour more white vinegar onto any remaining baking soda heaps till all the baking soda dissolves.
Use paper towels to blot the stains off the yoga mat and also remove the excess solution.
If stains still remain after you blot, repeat the baking soda paste process and keep the paste on for longer than 5 minutes.
It could be that the stain has penetrated deep into the mat material, so you need to allow more time for the baking soda solution to seep into the mat.
Rinse off yoga mat with water and use a microfiber towel to blot off the excess moisture.
Hang yoga mat to air dry.
Distilled White Vinegar vs. Regular White Vinegar
We've always been curious about which vinegar to use to clean and we read a lot of bloggers interchanging the vinegar types.
But from our research, and we particularly appreciate this article, distilled white vinegar, and regular white vinegar are very different products.
To keep it simple, distilled white vinegar is the "virgin" form so it's milder than regular vinegar and generally used for cooking, preserving and pickling.
White vinegar is higher in acidity, so this vinegar is ideal for heavy-duty cleaning and packs more disinfecting power than distilled vinegar.  When shopping for white vinegar, make sure it's labeled for "cleaning" and that it's acidity percentage is 6% or higher.
Both types of vinegar are potent enough to be used for cleaning, so you can interchange them if you already have one type on hand.
Feel free to message us with your query