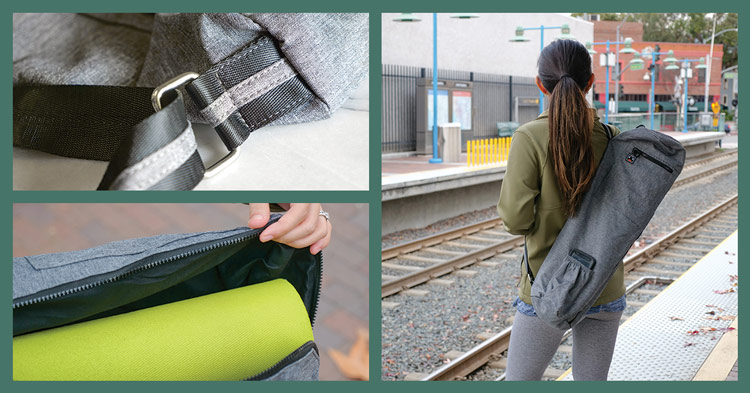 Date Updated: March 27, 2019 
The Best Yoga Mat Bag
The Elenture yoga mat bag is the highest rated mat bag on Amazon and we understand why.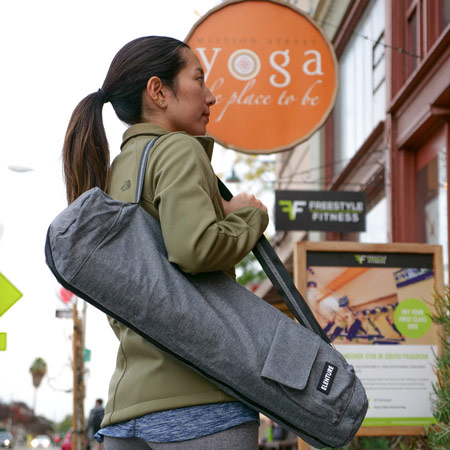 With over 400 5-star reviews, this yoga mat bag is a daily commuter must-have.
We each have one for when we hop on the train to head to yoga class and for when we do weekend trips to keep all of our yoga essentials together.
It's built well and has plenty of pockets to hold your phone, water bottle and other items that you take with you to yoga class.
Below are some reasons to consider getting one of these for yourself.
Highest Rated Yoga Mat Bag
We test a lot of yoga accessories and our friends give a ton of helpful feedback as well.
One thing we noticed about this bag is that no one had anything terrible to say about it.  The bag was durable enough for commuters and convenient for those that had a few extra items that they brought to yoga class.
[amazon box="B077SVXJ6V" title="Full-Zip Mat Bag with EXTRA Pockets"]
Best Yoga Mat Bag
Dimensions: 26″L x 6.5″ diameter
Fits standard yoga mats up to 26″ wide and 6″ in diameter when rolled up
Material: 100% High-Quality Canvas (Machine Washable)
Pockets are Perfect for Cell Phone, Water Bottle, Keys and Other Essentials
More than 20 Different Colors and Prints To Choose From
[/amazon]
Lots of Storage
One thing to consider is that you usually don't show up to yoga practice empty handed.
Usually, you have some keys, your phone, a water bottle and maybe even your wallet and the storage helps keep everything together.

The yoga mat bag comes with three pockets perfect for your all of your personal items and enough room inside the bag to fit a yoga towel along with your mat.
Helpful Review
"I was very worried that my yoga mat wouldn't fit this product as I ordered them at the same time. This product is a great size and has a little bit of clearance for bigger mats as well! The design on it is super cute with amazing colors! I am NOT disappointed! I love the added exterior pockets which allow me to bring only my yoga mat bag wherever I go! I love this product!! The strap is very easy to adjust and the zippers haven't gotten stuck or anything! I would 100% recommend this product, especially for the price!" — View Review from Samxlopes
Comfortable Bag Strap
If you travel long distances to get to your yoga studio or wear tank tops during travel, then the strap on your mat bag is incredibly important.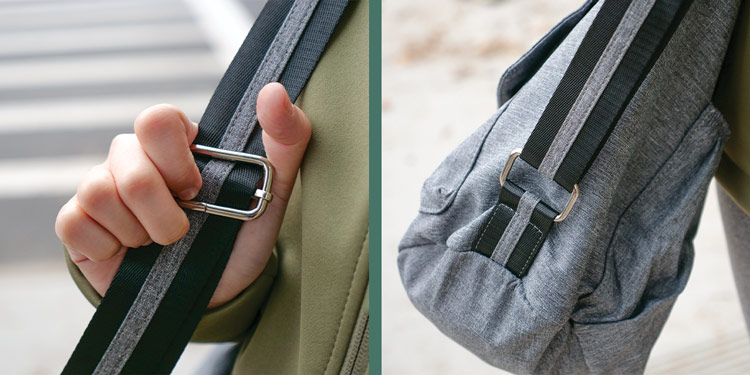 This bag comes with a thick and smooth strap which makes the yoga bag comfortable to carry.
Also, the chrome hardware not only looks nice but is sewn tightly into the body of the bag on 4 sides.  This means the bag will not rip at the seams and will last much longer than some cheaply made bag.
Helpful Review
"Perfect for larger mats. Pockets are functional and keep keys, phone, headphones organized. Zippers are high quality and very durable. Strap adjustments on point." — View Review from Owens C. Phillips
Durable Fabric
We've had our yoga mat bag for a few years now and it has stood the test of time.
Elenture's yoga mat bag is made with heavy-duty canvas, so it's a durable bag to hold up against everyday wear and long public-transit commutes.

Best of all, if you spill something on it or just want to freshen it up, then you can toss it into the washer machine for easy cleaning!
Helpful Review
"The material is soft but durable cotton and the zippers are not flimsy. The zippered pocket is great for stashing my keys, lip balm and watch during yoga class; I haven't used the pocket with velcro closure but it is also a useful size (they're both about the size of an average size hand). The opening is from one end extending through the long side so retrieving and storing my mat is quick and easy. This is a great bag and I've already recommended it to a yoga buddy!" — View Review from Dy Turner
Yoga Mat Strap vs Yoga Mat Bag
Using a yoga mat strap works too, but if your mat is on the heavier side a yoga mat bag comes in handy.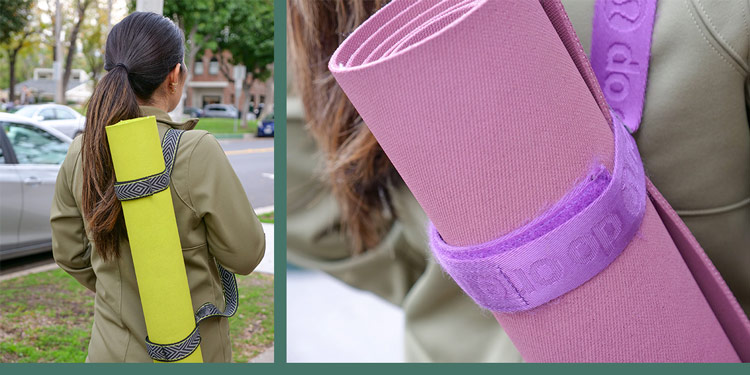 Also, if you a yoga mat strap that closes with velcro, just know that the velcro can sometimes be very loud and become a distraction if you show up late to your class.
Further, the velcro begins to fray and look sloppy after about 1 year of moderate use.
If you get a strap, make sure to get a sling style strap.
Lastly, if you live somewhere where rain or snow is common, then I highly suggest you get a yoga mat bag to keep your stuff dry before heading into your yoga class.
Compare Yoga Mat Bags & Straps
[amazon table="2320″]