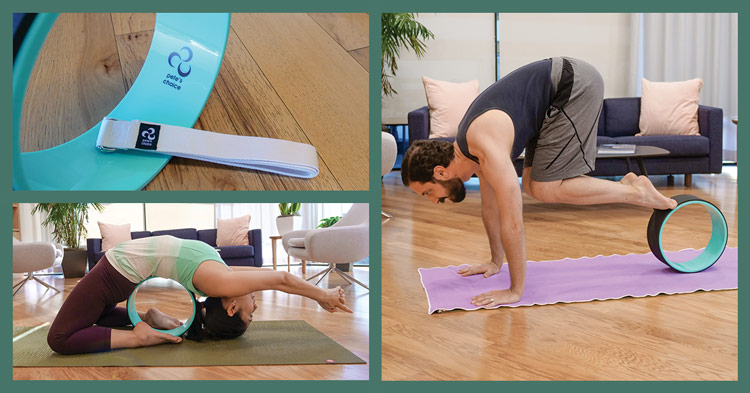 Date Updated: March 27, 2019 
Do You Know About Best Yoga Wheel?
You may have seen a yoga wheel make it into your studio and wondered what it is used for.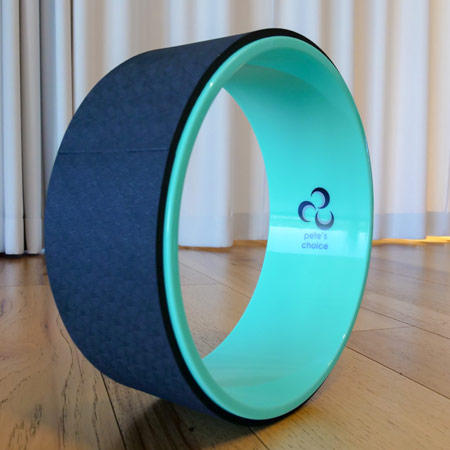 At first glance, it seems like a new gimmicky yoga product, but when you use it properly it can actually provide lots of benefits and open up a whole new aspect of your yoga practice.
This type of wheel is a ring lined with foam or cork used to gain more mobility and flexibility in your back and spine. They are lightweight but durable and strong enough to handle your body weight.
They come in many colors and even many sizes but beware of cheap knock-offs that aren't built well. Always buy the best yoga wheel to get the most out of your yoga session.
If you have any questions, please feel free to send us a message.
Why Use a Yoga Wheel?
This useful item is great to pinpoint and open those stiff and hard-to-reach areas like your lower back and spine.
If you struggle with backbends because of muscle tension or lower back pain, then using a wheel will give you near instant relief and support.
When we first saw the yoga wheel at an expo in Pasadena we were amazed at how it felt against our shoulder blades and lower back.
Now compared to an exercise ball, a yoga wheel is slightly easier to control, and it's not bouncy and does not slip around.
The rigidity of the wheel also helps give you peace of mind that you're being held up properly.
Yoga wheels are the perfect height so you can comfortably backbend and the width of the wheel gives just the right amount of pressure to gently stretch your back.
Best Wheel For Yoga
We have had this wheel for over a year now and have used it for intense practices and it stands sturdy every time!
The included strap is nice if you want to get two accessories for the price of one.  It's flexible and cleans easily.
I think the included eBook is most important because it helps you understand all of the different poses you can perform with the help of a wheel. The unique support that the wheel provides allows you to stretch subtle muscles that are hard to reach.
[amazon box="B06W9K1W4F" title="Ultimate Wheel Prop with Bonus eBook & Free Yoga Strap"]
Key Benefits:
Durable construction & quality materials: made of 100% high-quality, durable ABS material (acrylonitrile butadiene styrene), making it extremely sturdy, safe and comfortable
Comes with eBook of yoga wheel exercises for both beginners and experienced yogis
BONUS: Get a free yoga strap
Quality Guaranteed with Lifetime Warranty
[/amazon]
5 Benefits A Yogi Cannot Ignore
You may be asking yourself, "What does a best yoga wheel do?".
It is much more than a back-stretcher and can benefit other areas of your yoga practice.
Below are 5 yoga poses that you can do to increase your strength and flexibility.
Provide Support for EXTRA DEEP Backbends
Doing standing backbends feel great, but your body isn't always in the mood to bend on its own.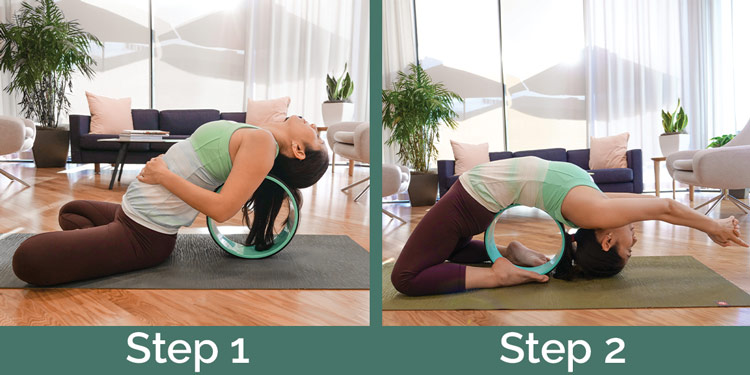 Step 1: To start opening up your spine, you can lay back on the wheel by sitting cross-legged or even in butterfly pose.
Step 2: Now as your spine opens further, you can get into a supported fish pose to really go deep.
This stretch will help open your hip flexors and activate every muscle in your back.
The best part is that you're doing it with confidence because you have the lift and support of your yoga wheel.
Increase Core Strength with Yoga Wheel Exercises
Practicing a variety of core-strengthening exercises keeps your routine fun and new.

You can use the best yoga wheel to add more resistance and challenge to core exercises.
Balance your feet on the wheel, then as you inhale, begin to draw your knees up to your chest while keeping your core flexed.
After you reach step 4 above, then exhale and extend your feet back out behind hit.
Deepen Hip Openers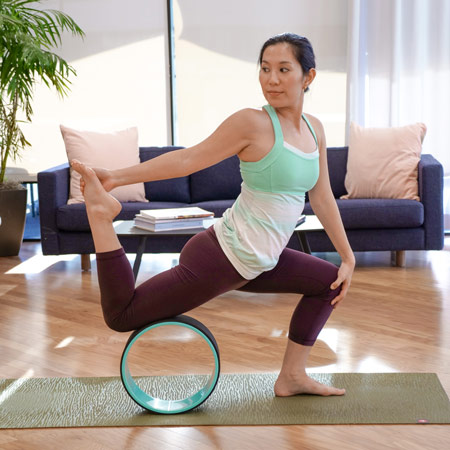 Sometimes our hips just will not open or flex properly, so consider grabbing a yoga wheel to stabilize your knee and lean deeper into the stretch and massage stubborn hip flexors.
Develop Lower Back and Glute Muscles
With the yoga wheel, you can practice deeper stretching exercises for your lower back and glutes.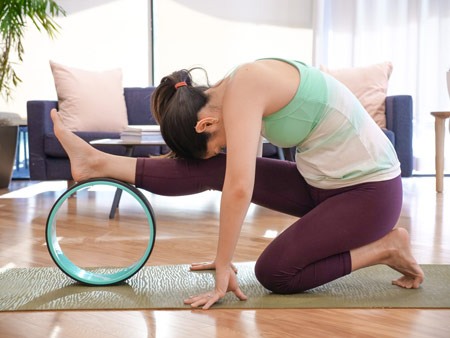 Tuck the wheel behind your Achilles tendon so your glutes begin to feel a stretch, then lean back onto your opposite knee and toes.
Next, exhale and tuck your forehead down towards the knee of the leg that is propped up on the yoga wheel.
Inhale to sit back up, then repeat this exercise a few times for each side of your body.
You will feel your glutes expand, your belly compress, and your lower back opens up with each repetition.
You can also use a yoga strap to grab your foot and increase your leverage.
Warm Up Spine & Root Chakra for Meditation
When you sit on the wheel and rock side to side, you will begin to heat up the lower part of your spine.
Use the best yoga wheel to massage your root chakra and activate your spine for deeper meditations.
What Size Yoga Wheel Should I Use?
There are various sizes on the market, but we found that the best yoga wheel size is 12 inches in diameter and 5 inches width.
However, if you're taller than 5'10 you may want to consider a larger sized yoga wheel, like a 15-inch diameter and 6-inch width wheel for better support.
What are Yoga Wheels Made Of?
Yoga wheels are typically made with an inner ring of metal that is coated with plastic and finally wrapped in foam, cork or other types of a padded layer for comfort as you roll on your spine.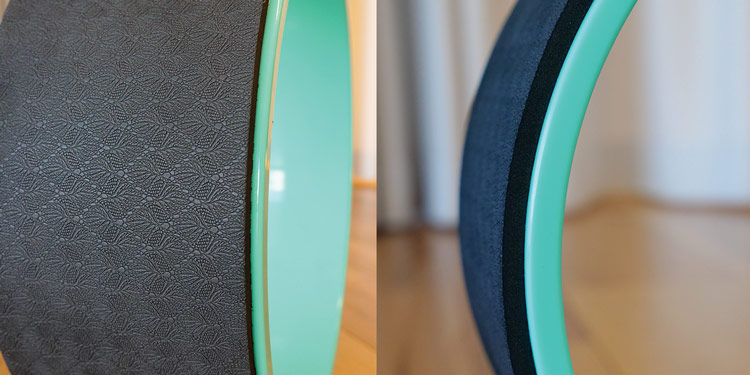 Many of wheels are lined with materials found in yoga mats like TPE or PC, all hypoallergenic and eco-friendly.
This keeps the experience comfortable and allows your muscles to relax instead of tense up while you stretch.
Need more info on yoga wheel? Leave your query and we will get back to you at the earliest
Compare Yoga Wheels
[amazon table="2327″]