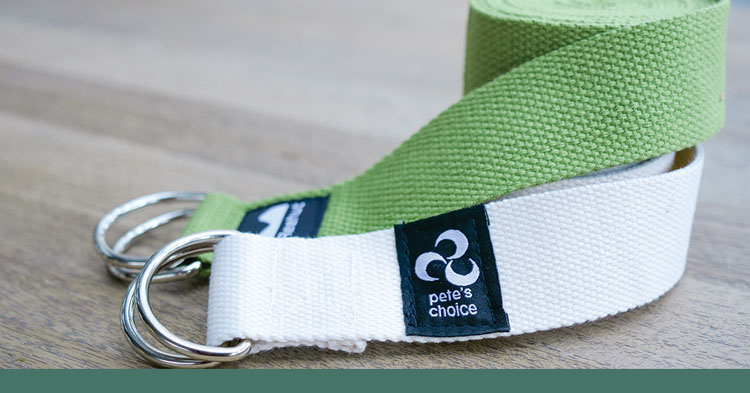 Date Updated: March 27, 2019
What is a Yoga Strap?
A yoga strap is a very useful tool if you're having difficulty doing certain yoga poses.
The strap helps you to safely leverage the amount of weight and force needed to do a pose without compromising alignment or your safety.
Best of all, they are affordable and last a very long time!
Why Use a Yoga Strap?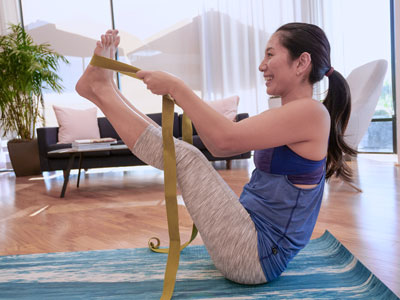 Yoga straps are helpful if you're having difficulty getting into particular yoga poses.
If you suffer from any type of chronic pain or stiffness, then we highly recommend you get a yoga strap.
The strap helps you keep your alignment and stability while also making it easier for you to explore new variations of poses in your practice.
If you want to start practicing poses that require a high level of flexibility and strength, then first try them with a strap or yoga block before you go all-in on your own.
Best Yoga Strap to Improve Flexibility
With yoga straps, there is no need to spend a ton of money.  We bought two different straps to try out and we really liked the way the REEHUT strap performed and it was very affordable.

[amazon box="B01M3TTZ9N" title="Durable Strap with Ebook"]
Material: Polyester cotton
Lengths: 6ft, 8ft, or 10ft
Comes in a variety of colors
Soft and sturdy cotton blend material doesn't rub harshly against the skin
Does not lose shape or warp when used
Machine wash gentle cycle with like colors, air dry
Comes with Educational E-Book!
[/amazon]
3 Benefits of Using a Yoga Strap
Using a strap is great, especially if you have any prior injuries, chronic pain, or stiffness in your body.
Here's how the strap can help you:
Achieve Proper Alignment in Poses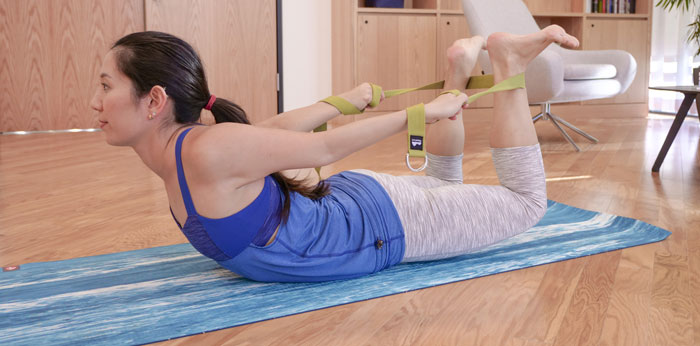 Alignment is very important to prevent injury, but proper alignment within a pose also helps target the areas that the pose is supposed to stretch or strengthen.
Using a strap helps achieve alignment without compromising the pose's effectiveness on your body.
Safely Deepen the Level of Intensity Within Poses
Doing a pose timidly or awkwardly prevents you from receiving all the blissful relaxation benefits that yoga provides.
Using a yoga strap to leverage your weight, especially if you're stiff or in pain, helps you to gently ease into a pose allowing you to enjoy a deeper practice with less pain.
Helps Soften Tight Muscles
The magic of yoga happens when you hold a pose for a longer period of time.
Areas that were once stiff soon now begin to soften with each inhale and exhale.
But holding these poses requires a lot of endurance, so use a strap to keep you in the pose without exerting all of your energy in a short period of time.
This allows the muscles to loosen, the fear in the body to subside, and your tensions to melt away.
Should Beginners Use a Yoga Strap?
Beginner yogis can benefit from using a yoga strap, but it is not required.  We suggest doing what feels right for you.
Many new yogis believe that the goal in yoga is to be able to touch their toes or contort your body into a pretzel.  That mindset will get you injured!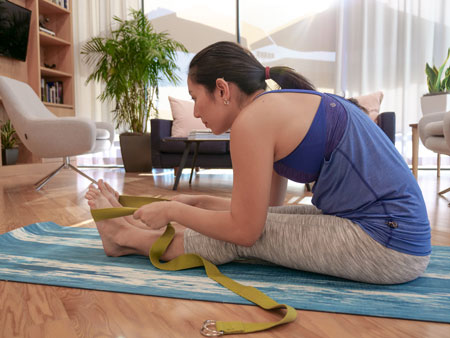 The reason yogis touch their toes or grab their ankles or feet is to create leverage so your body weight can stretch tight muscles and knots, releasing tension and relaxing those areas.  So a yoga strap helps you to safely create that same leverage without having to actually touch your toes!
Even if you can touch your toes, using a strap can also help you create more resistance to deeply stretch hard to reach areas like your hamstrings or lower back.
What Size Yoga Strap Should I Use?
Most yoga straps on the market come in three sizes:
Here is how to choose which yoga strap size is right for you.
[Insert infographic]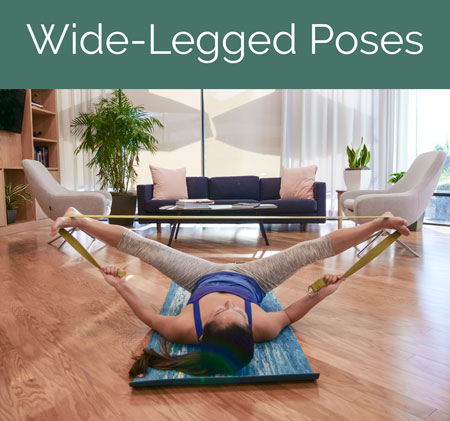 6ft Yoga Strap – perfect for poses that require grabbing your ankle, shoulders, or behind the knees
8ft Yoga Strap – help you get into the splits wide-legged poses or when you want to strap your shoulders back for posture
10ft Yoga Strap – XL size, good for yogis taller than 5'10
Are All Yoga Straps Flexible?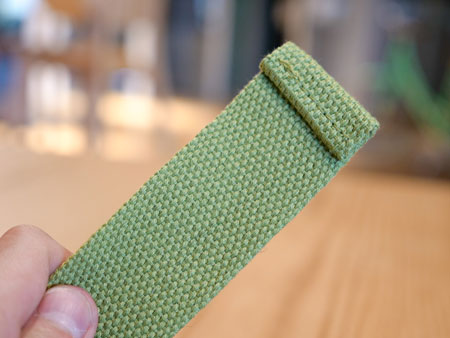 Most straps come in a polyester/cotton blend or nylon.  Two main reasons:
The strap won't 'burn' if you rub it quickly across the skin
These materials create constant tension for consistent stretching
Do not use flexible or elastic tension materials as yoga straps.  You want a sturdy and strong material while you practice preventing slipping out of a pose and causing injury.
How Do I Wash My Yoga Strap?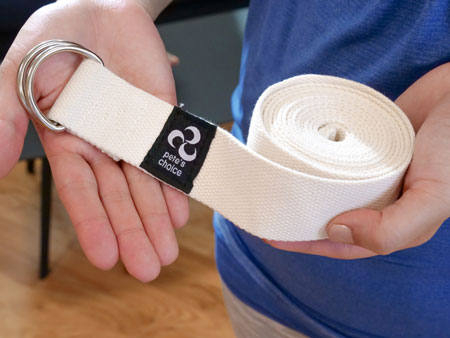 Regularly wash your yoga strap just like you would with your yoga mat, especially if you sweat a lot while you practice.
Most yoga straps are machine washable, but you can also wash your yoga strap by hand using a mild soap.
Make sure to rinse it out thoroughly so no soap residue remains.  We suggest that you air dry your yoga strap and expose it to sunlight to sanitize.
Compare Yoga Straps
[amazon table="2329″]