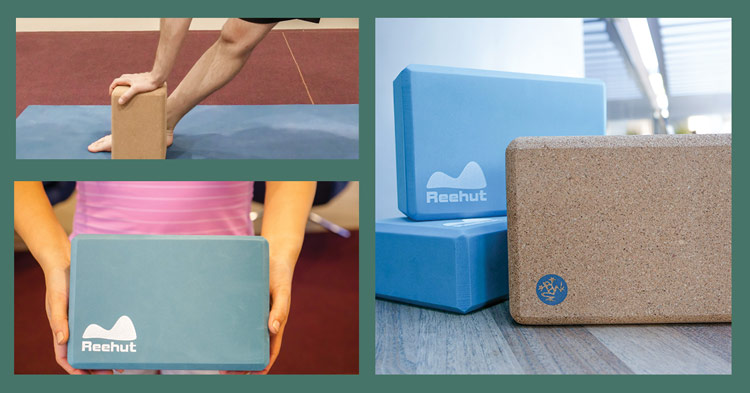 Date Updated: March 27, 2019 
Yoga Blocks For Beginners & Pros
Yoga blocks (also called yoga bricks) can be helpful props for all yogis, not just beginners.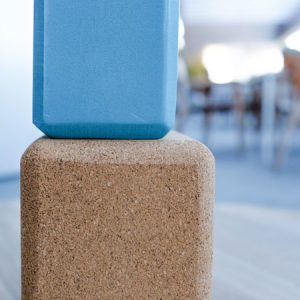 These brick-shaped props are the most popular among the yoga accessories because you can never "outgrow" them.
In fact, the best quality yoga blocks help progress your practice and provide confidence and assistance when exploring new poses and deeper angles.
Yoga blocks, like yoga mats, come in a variety of materials and sizes.  Each type provides its unique benefit and purpose.
So next time you take a class at your local yoga studio and see a variety of yoga blocks, try them out so you can learn which one will best assist you in practice.
For any questions, please feel free to send us a message
What are Yoga Blocks Used For?
For such a simple prop, yoga blocks or bricks can be used many different ways adding many benefits to your yoga practice.
You can use the blocks to:
bring the floor closer to you for support
increase your balance
give you confidence while exploring new pose variations, and more!
Don't be discouraged if your yoga teacher gives you a yoga block to use.
They don't think you're doing anything wrong, instead, your teacher sees the potential for deepening your practice in one way or another.
Use it without hesitation, try out a new variation of your pose, and see where it takes you.
With that, let's get into some of the specific benefits.
4 Benefits in Using Yoga Blocks
Here are four reasons why you should use them.
Safe Adjustments and Proper Alignment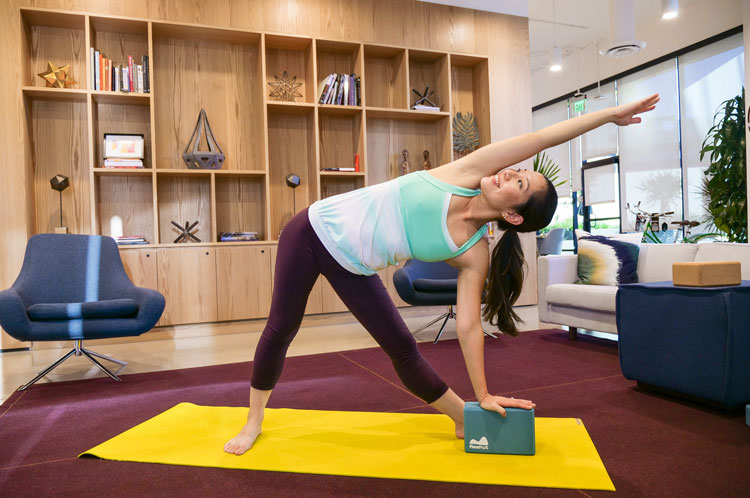 Using yoga blocks allows you to feel the benefits of a pose without overextending your ligaments.
It's very beneficial as a learning tool for safe adjustments and proper alignment in poses.
The added height that a yoga block provides (aka bringing the floor closer to you) is enough to stretch out tight muscles and joints.
Balance and Stability
Sturdy yoga blocks, such as cork or wood blocks, can help provide stability when practicing balancing poses.
Poses like Warrior 3 or Half Moon can easily be done with the help of a yoga block that will alleviate the weight off your standing leg.
Best yoga blocks also give you the confidence to achieve a pose safely and comfortably.
Backbends Support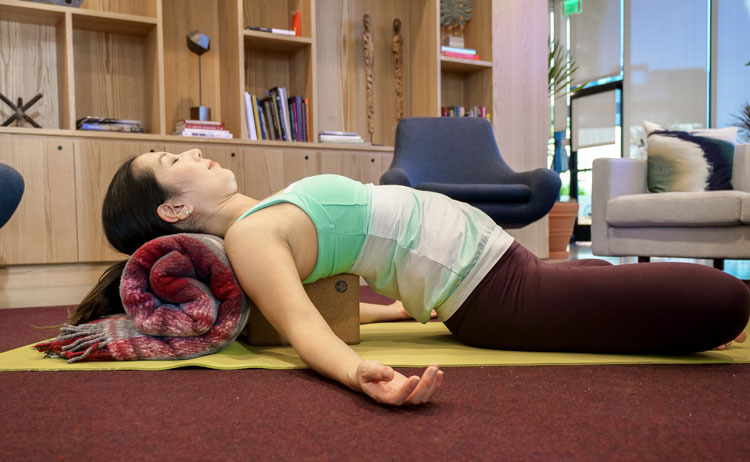 One of the primary reasons for practicing yoga regularly is to manage and alleviate neck, shoulder and back pain.
But for those days when standing backbends are too painful to do, you can lie down and try a backbend with a yoga block for support.
Relaxation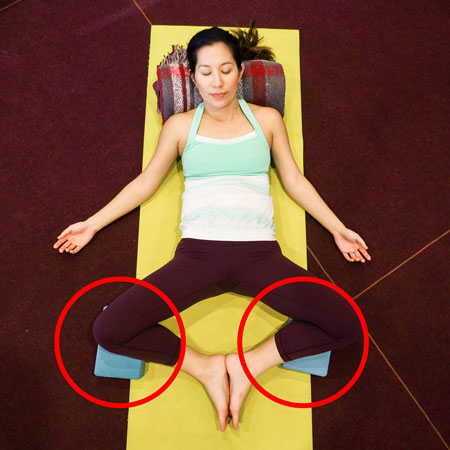 Using several yoga blocks to support your lower back, knees or head during a restorative or yin yoga session is a smart way to ease your body into deep relaxation.
The blocks help spread your body weight out to multiple points with more surface area.  So instead of toughing-it-out through a pose, you actually begin to feel instant relief from the pose.
Best Cork Yoga Block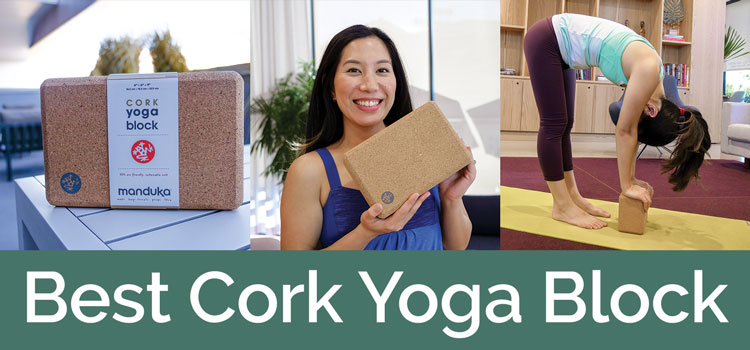 There are two main reasons we like this block.
First, it's incredibly durable.  We've dropped it, scuffed it, crushed it and it's still as strong as the day we got it.
Second, it provides stiff support for heart opener poses when you really need it most.
[amazon box="B000VUAGAS" title="MANDUKA Cork Block"]
Best Cork Yoga Block
Product Dimensions: 9" x 6" x 4"
Material: Sustainable, fine-grain cork
Rounded edges for comfort
Natural cork texture provides traction and easy grip
Weight makes block safe to use for balance and stability
No chemical smell and no toxic chemicals were used in manufacturing block
[/amazon]
Blocks also come in many other materials which we will discuss later in this post.
What Size Yoga Block Do You Need?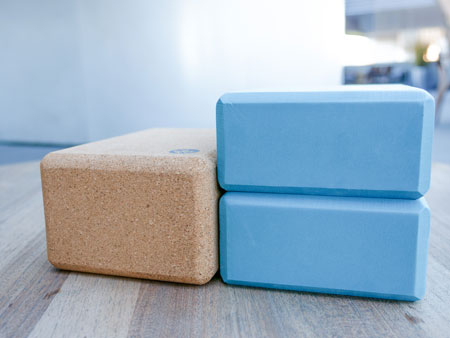 Yoga blocks come in various sizes, but the main difference is the thickness of the block.
The most common dimensions are:
3″ L x 6″ W x 9″H
4″ L x 6″ W x 9″ H
To find the right size for you, you can choose a yoga block according to the size of your hand.
If you have smaller hands you can definitely work with a 3" yoga block and if you have larger hands you can use the bigger size.
From our experience, it's really all a matter of preference about what feels right in your hand.
If you don't know which is best for you, grab a block at your local yoga studio and stick a dollar bill on the side.
If it is about 1/2″ bigger than the dollar width, then it's a 3″ yoga block.  If it's MUCH bigger, then it's a 4″.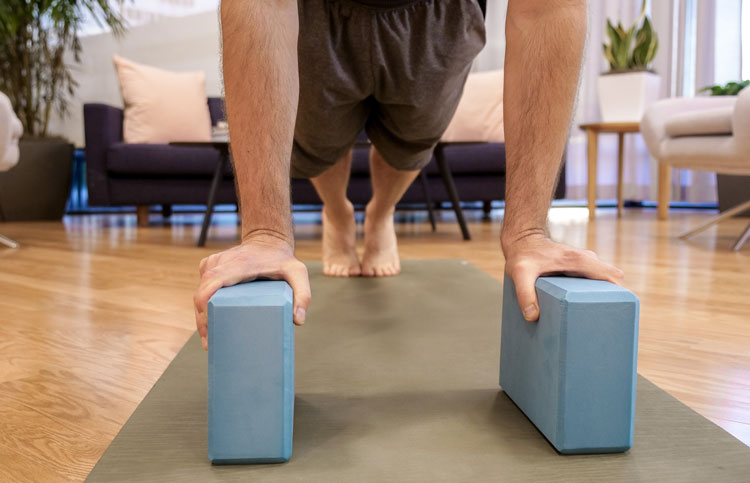 What are Yoga Bricks Made Of?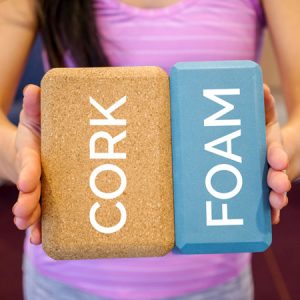 Yoga Blocks are available in many different materials.  Each material has different advantages and tradeoffs.
The commonly used materials of yoga blocks are:
Foam Yoga Blocks
Most foam yoga blocks on the market are made from EVA (ethylene-vinyl acetate) foam.  This foam is lightweight and squisher than PVC (found in most yoga mats) but it's sturdy enough to hold up your body weight when practicing a pose.
The best yoga foam blocks are soft to the touch, but won't warp its shape under body weight.
A foam yoga block is perfect to place under your tailbone for easy bridge pose or between your shoulder blades.
Some brands claim their yoga blocks are environmentally-friendly, which means that they used recycled agricultural plastic to make their foam blocks.
One slight drawback is that they may show wear and tear with regular use, but they are much cheaper than compared to other yoga blocks since its made out of foam.
Lastly, they are available in different colors, and usually with rounded or beveled edges that make it easy to grip and comfortable to use.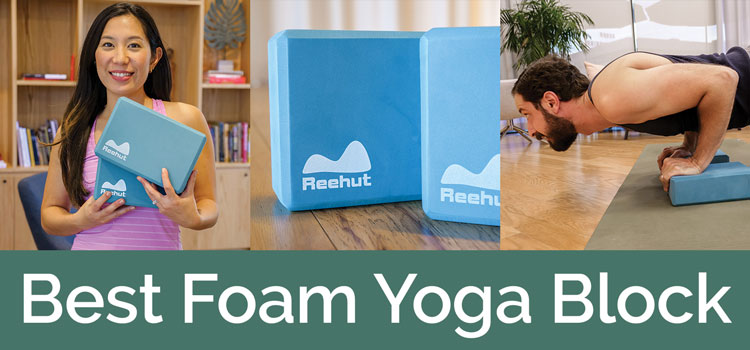 [amazon box="B07D4DMYY2″ title="Best Eco-Friendly REEHUT EVA Yoga Block
"]
Key Benefits:
Comes WITH YOGA STRAP!
Product Dimensions: 9" x 6" x 4″
Beveled edges for easy grip and comfort
Foam is sturdy and does not warp under body weight
Soft to the touch and cushiony
Lightweight and travel-friendly
Cork Yoga Blocks
Aside from being all-natural and eco-friendly, cork yoga blocks are sturdy and soft to the touch.
Cork blocks are a favorite for those who still want a cushioned surface but a sturdy base.
Another benefit that makes cork a favorite is for its hypoallergenic properties.  Cork repels hair, dust and other small particles from penetrating into its surface.
Cork also contains suberin, a waxy antimicrobial agent, so it's self-cleaning.
The cork texture also provides traction and steadiness when practicing balancing poses preventing you from slipping while providing support.
Cork's soft texture is also what makes it susceptible to moisture and humidity.  Manufacturers do coat cork blocks with an anti-moisture sealing agent making it durable against regular wear and tear and sweat.
But if you practice in a hot, humid environment or outdoors in sunlight, these weather elements will break the cork down faster.  So cork yoga blocks are great for indoor studio use, but not recommended for patio or poolside sessions.
[amazon box="B000VUAGAS" title="MANDUKA Cork Yoga Block"][/amazon]

Bamboo Yoga Blocks and Wood Yoga Blocks
Both bamboo and wood yoga blocks are all-natural, durable and sturdy.  They are usually hollow so the blocks are not too heavy, and have rounded edges for comfort.
Most manufacturers also seal their bamboo and wood yoga blocks with an all-natural varnish so these blocks are moisture resistant and durable against regular wear and tear.
Bamboo and wood are not soft to the touch like cork, but their smooth surfaces and rounded construction feels good against tight back muscles and knots.
Their heft and weight also make them a good choice to practice balancing poses, even with sweaty palms.
[amazon box="B000LGMLSW" title="HUGGER MUGGER Bamboo Yoga Block"]
Key Benefits:
Product Dimensions: 9" x 6" x 4"
Rounded edges for comfort
Beautiful smooth texture and finish
Hollow construction for easier transport
Sturdy to carry body weight and durable for regular practice
[/amazon]
[amazon box="B000LGMLSW" title="Best Grippy Yoga Block | YOGABODY Handstand Yoga Blocks"]
Key Benefits:
Product Dimensions: 5" x 3.5" x 3.5"
The small size fits evenly in your palms for easy grip
Blocks are lined with 3 mm of non-slip rubber for secure traction
Perfect for building up wrist and forearm strength
Sturdy to carry body weight
[/amazon]
Which Material Should You Choose?
As for which material is better, it's really a matter of personal preference.  Both offer similar benefits in durability, sturdiness, and comfort.
Wood and bamboo are also environmentally friendly in their own ways and we found that many yoga block manufacturers take that into consideration by only using eco-conscious suppliers.
Foam allows for fun colors.
Cork is great for a soft, but sturdy base.
Wood and Bamboo add counter-weight and sturdiness to your balancing poses.
The only major difference we found between bamboo and wood yoga blocks is their aesthetic appearance, specifically the grain.
Best wood yoga blocks are made from a solid piece of wood, whereas, bamboo yoga blocks are composites of bamboo fibers. So decide whether you want an intricate wood grain look or a minimalist bamboo look.
Yoga Block Poses and How to Use Them
Here are 4 basic suggestions on how to incorporate yoga blocks into your daily practice.
Assisted Easy Bridge – 1 Yoga Block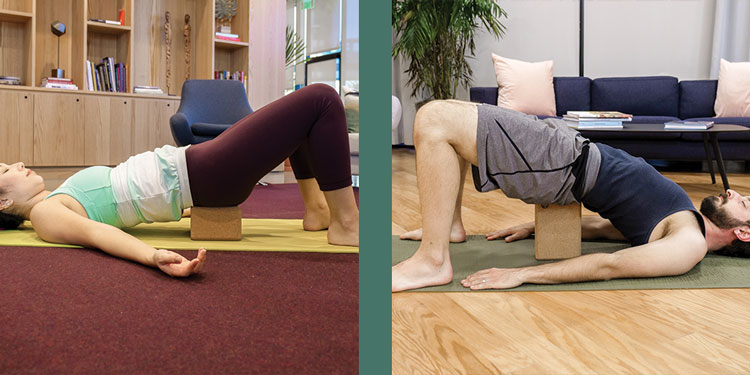 Place a yoga block under your tailbone. This will allow your lower back to release tension and your chest to open up.  You can switch the height of the block to what's most comfortable.
Triangle Pose – 1 Yoga Block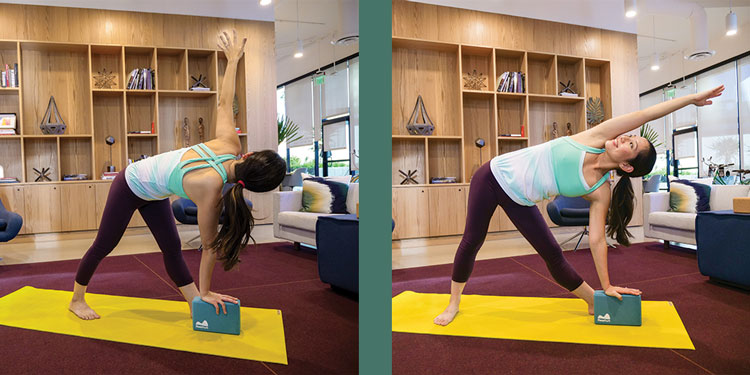 Use yoga block to help lift your upper body in triangle poses.
Child's Pose – 1 Yoga Block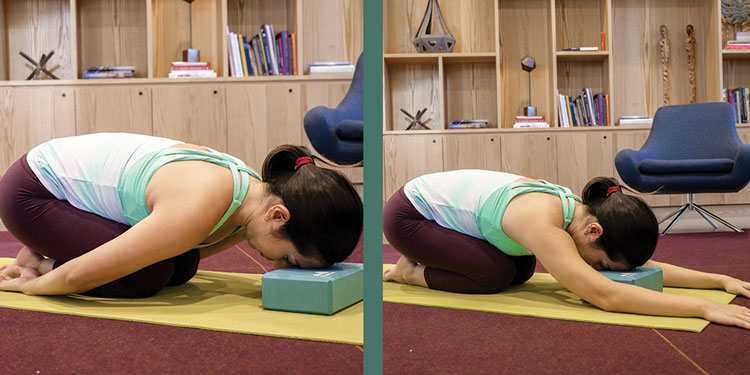 Rest forehead onto yoga block for a gentler child's pose.
Butterfly Pose – 2 Yoga Blocks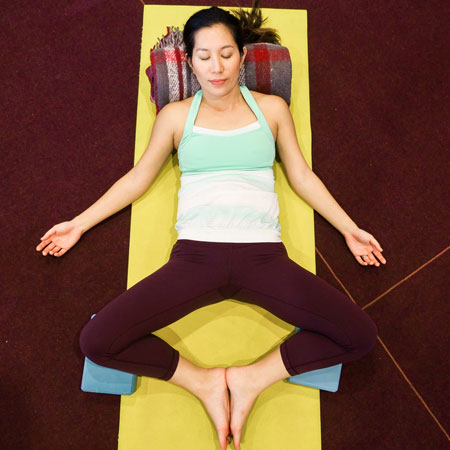 Ease into butterfly pose by using yoga blocks to elevate your knees, easing pressure off your hips.
Drop us a message or query, and we will call you back at the earliest
Compare Yoga Blocks
[amazon table="2309″]