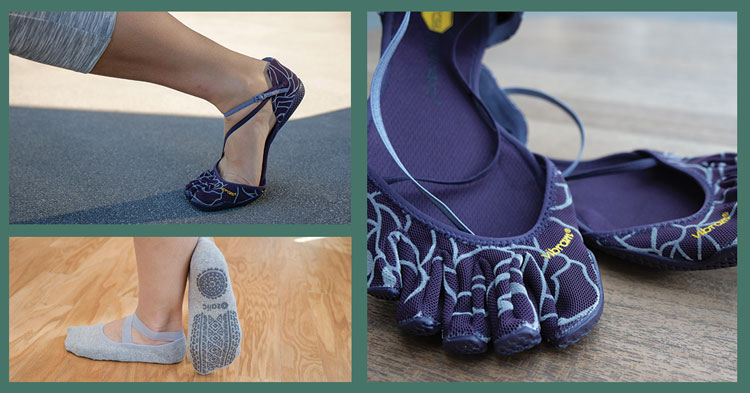 Date Updated: March 27, 2019
What Are Yoga Shoes?
Yoga shoes can come in handy when you're not practicing on a clean, smooth surface, but ideally, you should be practicing yoga barefoot.  More on that later.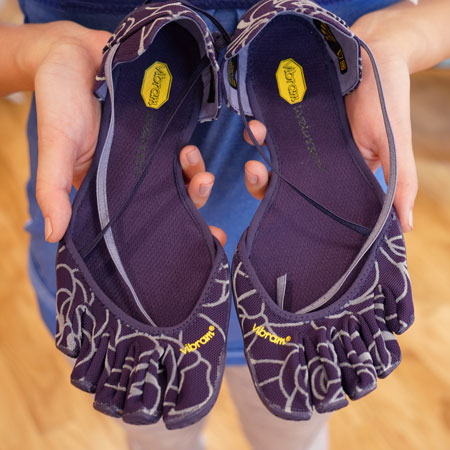 They are sturdier than yoga socks and have more flexibility compared to gym shoes.
If you're out practicing yoga in nature or on rough surfaces like concrete, then we highly suggest buying some shoes that will protect your feet for a more enjoyable experience during a yoga session.
We prefer ones that provide just enough cushion without totally restricting foot movement such as the these purple Vibrams.
Have any queries? Drop us your contact details and leave your message, and we will get back to you at the earliest.
Why Wear Them?

Consider wearing these type of shoes when you are not in an ideal setting for yoga practice, like if you are outdoors, or squeezing in a session at your hotel room (who knows what's on those floors!)
They are also good when practicing SUP or stand up paddleboard yoga because they help you grip the wet and slippery board.
Lastly, if you have health conditions that make practicing barefoot uncomfortable, then shoes could be right for you.

And if a shoe is not your thing, think about getting some light-weight yoga socks.
They are not as stiff as a shoe, yet provide ample grip with the gel cushions on the bottom.  Made of cotton, they are breathable and absorb sweat which makes them helpful in a hot yoga class.
It comes down to personal preference and how much you want to protect your feet during particular practices.
Yoga Shoes Vs Yoga Socks

Using shoes or yoga specifically designed and made for yoga sessions depends on the environment and setting of your yoga practice, or if you have a health condition that makes yoga practice uncomfortable.
Yoga shoes cover your entire foot and have a bottom sole making them ideal for an outdoor practice or on the carpet, especially if you are not using a yoga mat.  The bottom soles are also textured to provide traction and slip resistance making them ideal to wear on smooth or uneven surfaces.
If your concerns include arch support or bunion relief, yoga shoes may help ease the pain and pressure off your feet while you practice.
[amazon box="B01A3I70H4″ title="Vibram Women's VI-S Shoe"]
Best Yoga Shoe
100% Polyester mesh with rubber sole
Form-fitting with a stretchable closure system
Machine washable
Perfect for yoga out in nature or in rough terrain
[/amazon]
Yoga Socks

As for yoga socks, we found that they are great to wear for indoor yoga practice like at a hot yoga studio or at home on tile or hardwood floors.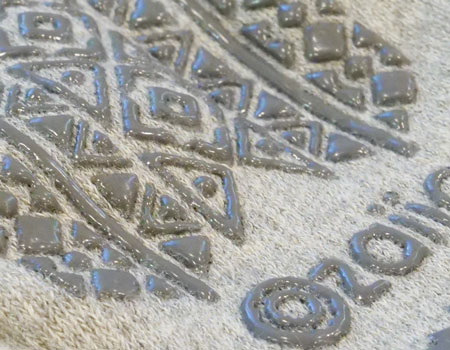 Regular cotton socks, even fitted ones, usually slip and slide on your foot, whereas a yoga sock has built-in grippy material so that it stays in place throughout your entire practice.
We've tried many types and like the styles that expose your toes and heels so you have better grip and traction on your mat.
Yoga socks can be useful if you need to cover your feet due to a skin condition so the affected area is undisturbed.
[amazon box="B07PN91N6N" title="Socks for Women with Non-Slip Grips & Straps"]
Best Yoga Socks
Hold your yoga pose with ease
Increase your balance and stability
Durable & comfortable
Breathable & absorbs sweat
[/amazon]
Yoga Shoes vs. Regular Atheltic Shoes

Regular athletic shoes are built to be extremely durable so that they can be 'everyday shoes'.
Athletic shoes can perform well in a variety of activities from playing pick up basketball, hiking on a trail, and every day walking.
This means they are stiffer and not built to flex with the foot, but rather support the foot and protect it.
Now with shoes made for yoga, they are built with one intention- that of giving you the best yoga practice…that's it.
They are built with a focused set of features that give you padding, cushion, and protection while also staying light and flexible.
You likely won't go walking around the mall in them, but they will surely improve your confidence during yoga.
Should I Wear Shoes For Yoga at a Studio?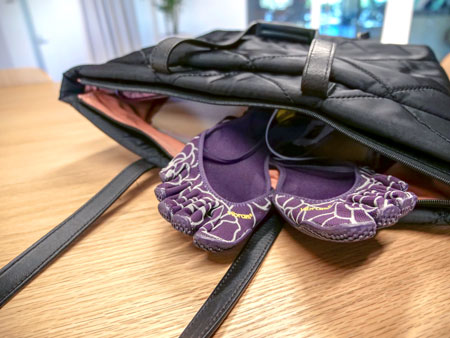 Most yoga studios will ask that you practice barefoot because it helps keep the studio clean.
But did you know that practicing barefoot can bring a few health benefits?
Practicing barefoot gives you the opportunity to strengthen your foot muscles, something we rarely get the opportunity to do.
Especially if you wear shoes all day at work, home, or on the go, then getting in a barefoot yoga practice can lead to improved balance, muscle alignment, and reduced orthopedic pains.
But if you experience chronic feet issues or suffer from a condition that requires you to wear special shoes, then you should ask your yoga studio manager if you can wear yoga socks or shoes in the studio.  It's more common than you think, and all you have to do is ask.
One last thing, make sure your yoga mat is durable enough to handle scuffs from yoga shoes as you do not want to tear the surface of your yoga mat.
A rubber yoga mat can stand up to the wear and tear of yoga shoes.
3 Reasons to Use Yoga footwear in Your Practice
Outdoor Yoga Practice
Use them while hiking or walking on the beach for a spontaneous yoga session.  The soles protect your feet from uneven or sharp surfaces and provide flexibility for foot movement.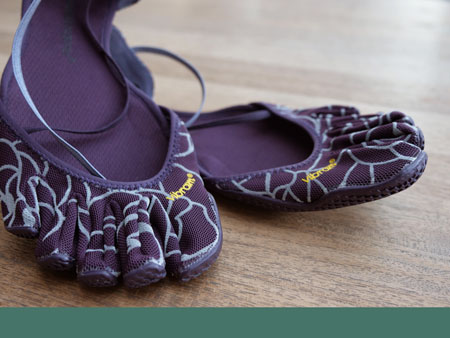 At Home Yoga Practice
Wear yoga footwear to prevent slipping and sliding during your home yoga practice.  The rubber soles provide traction against carpet and hardwood floors.
Other Chronic Foot Problems
Yoga shoes can provide relief for painful arches, heels, and bunions while you practice yoga.  This added protection can help you have a more enjoyable yoga practice.
Compare Yoga Shoes & Yoga Socks
[amazon table="2335″]